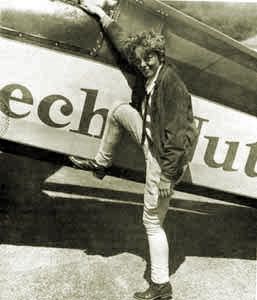 Amelia EarhartGREAT BEND, Kan. - Hilary Swank doesn't have two "Best Actress" Oscars sitting on her mantle for nothing. And her performance in Amelia (2009) brings such flesh-and-blood realism to the life of Amelia Earhart that I left the theater feeling like I knew Earhart - almost like she was a girl I went to college with or something. Swank is incandescent as Earhart.
Of all Kansas heroes, two stand apart: General Eisenhower and Amelia Earhart. Ike succeeded wildly in a man's world. And so did Atchison native Amelia Earhart. Early in the film the child Earhart is shown running through a Kansas wheat field, marveling at an airplane, and vowing that she will someday fly.
The film is about many things: dreams, feminism, marriage, airplanes, but it is mostly about an incredibly gutsy Kansan who succeeded on a scale difficult to imagine. At the age of 34 she became the first woman to fly the Atlantic solo.