MANHATTAN, Kan. - Community Bridge, Manhattan's alternative to talk radio, is now entering its fifth year on the air with another season dedicated to informing the public debate on issues of interest to Kansans.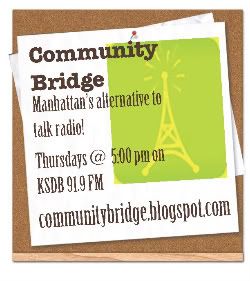 When I started this program in June 2006, it was mostly to provide some balance to the other talk shows on KSDB 91.9 and commercial radio in the Manhattan area. Every talk show was presented from a rabid right-wing perspective.
For over a year, the K-State's Progressive Coalition had been trying to get a moderate to left of center show on the air waves, but were blocked by the executive staff of the station. Only after a talk show host had had a guest who on air referred to the film "Brokeback Mountain" as "bareback mounting" and used other expletives to describe gay and lesbian people, that resulted in a formal complaint being filed with the FCC, did space become available for an alternative to the toxic talk of Rush Limbaugh wannabes.
Community Bridge began with one goal: to provide community with quality programming from a progressive point of view. To that end the show has worked hard to inform the public debate and provide listeners with content that is not available on other local stations.