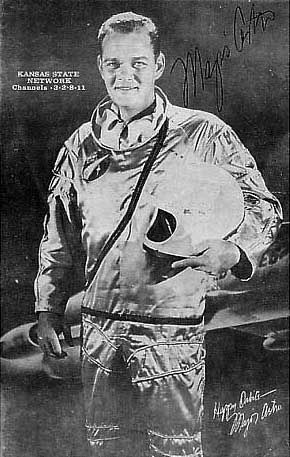 GREAT BEND, Kan. - On November 1, 1967, I waited in line with hundreds of Great Bend kids to meet an astronaut. As a scrub-faced seven-year-old, I was awed when I saw him arrive at J.C. Penney Toyland in his silver space suit and space helmet.
He wasn't a real astronaut, I now know. But as a seven-year-old, you suspend disbelief. The "astronaut" was "Major Astro," a guy named Tom Leahy who had an afternoon children's program on KARD-TV, the NBC affiliate in Wichita. Each afternoon "Major Astro" would delight youngsters in Wichita and Western Kansas with his program, in which he played an astronaut on the moon showing cartoons from a space station. We only got one channel in Great Bend - KARD-TV, so "Major Astro" was the only game in town.
A few days ago, I posted something on Facebook about "Major Astro," and I got a huge response from baby-boomers, all favorable, and way beyond what I expected. And I have thought a lot about why people in their fifties still light up at the mention of "Major Astro."