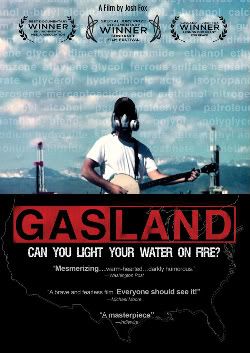 MANHATTAN, Kan. - The Manhattan Monthly Film Series continues in February with the showing of the Josh Fox's GasLand, winner of the Special Jury Prize at the 2010 Sundance Film Festival. The film will be shown at 6:30 pm on Wednesday February 9th at the Manhattan Public Library. The film is free of charge and open to the public.
GasLand looks into the Halliburton-developed drilling technology of "fracking" or hydraulic fracturing that has contributed to the largest domestic natural gas drilling boom in history. But serious questions exist to its safety and environmental impact.
Director Josh Fox becomes personally involved with the issue when he is asked to lease his land for drilling. Unable to get his questions answered, he embarks on a cross-country odyssey uncovering a trail of secrets, lies and environmental contamination. A recently drilled Pennsylvania town reports that residents are able to light their drinking water on fire. This is just one of the many absurd and astonishing revelations of a new country called GASLAND. The film is part verité travelogue, part expose, part mystery, part bluegrass banjo meltdown, part showdown. It informs the American people about another legacy given to us by the Bush administration.