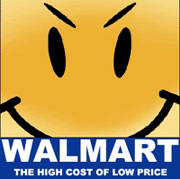 HAYS, Kan. - In 2010, the world's biggest corporation and largest retailer, Wal-Mart Stores, Inc. (NYSE: WMT), expects to add approximately 38 million square feet of retail space through remodels of existing stores and by accelerating growth of new stores. In the last decade, many U.S. cities have sweetened these deals for Wal-Mart in hopes that the retailer will move into their neighborhoods and boost local economic development.
If Wal-Mart seeks to expand operations in your area, its developers may approach your city leaders looking for tax advantages and tax exemptions. Even in this economy, some city or county governments may be enticed by the sales pitch, willing to accept Wal-Mart's assurances that its new stores can stimulate local employment and improve its local business climate.
Before giving Wal-Mart any new taxpayer gifts, municipalities might wish to read a new study by researchers at the University of Illinois at Chicago and Loyola University Chicago.
The study's results suggest that communities shouldn't see Wal-Mart or other big-box retailers as panacea for local economic problems.