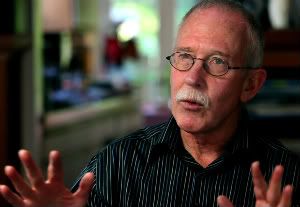 MANHATTAN, Kan. - If one listens to the rhetoric of right-wing pundits and politicians, our nation is in peril from a massive immigration of people from south of our border with Mexico.
The only problem is that the very policies these same ideologues hold up as the saving truths - free market capitalism, free trade zones, and no tariffs - are the very reasons why people in the global south must leave their homes and move in order to survive. Add to this mix the attacks on immigrants in Kansas being carried out by the xenophobic Secretary of State, Kris Kobach, and the lack of comprehensive coverage by the mainstream media of the important role immigration plays in the Kansas economy has lead to an atmosphere fear and ignorance on this complex issue.
In response, the Manhattan Alliance for Peace and Justice is please to announce photojournalist, editor, union and immigrant rights activist David Bacon will deliver Illegal People: How Globalization Creates Migration and Criminalizes Immigrants for their Spring Lecture at K-State on February 28th. Bacon will speak at 7:00pm in Forum Hall of the K-State Student Union.