Manhattan, KS. Over 200 Kansans attended the Kansas Center for Economic Growth's Rise Up Kansas Rally at the Capitol building in Topeka on December 8th. The rally focused on rolling out a new tax policy for the state by reinstating a top income tax bracket for people earning more than $40,00 a year, eliminating business tax exemptions, increasing the gas tax, taxing Limited Liability Corporations (LLCs) and lowering sales tax on food. It would formally end Brownback's "March to Zero" income tax commitment as a starting point in addressing the gaping $350-million shortfall in the current fiscal year (that ends in June 2017) and a projected $580 shortfall for the next fiscal year.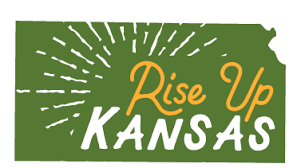 The Kansas Center for Economic Growth (KCEG) is a nonpartisan organization "dedicated to advancing responsible policies by informing the public discussion through credible, fact-based materials." In short, they are the antithesis to the Koch-funded "Kansans for Prosperity" which helped formulate, some would say masterminded, Brownback's disastrous tax policy for the state. Additional advocacy groups at the rally included: Kansas Action for Children, Kansas Contractors Association, Kansas Organization of State Employees, and the Kansas-National Education Association.
KCEG Senior Fellow Duane Goossen, a former state budget director, opened the rally by saying that Brownback's tax policies have been "a senseless gamble" that has put the state into a "continual spiral downward" and "has cost us too much." He summarized the proposal being put forth as putting an end to the "March to Zero" - Brownback's and the Koch brothers' desire to do away with state income taxes.
Part of this "march" was the removal of the third tax bracket (on people earning more than $40,000 a year) that has cause harm to the state finances and caused our poorest citizens to shoulder the burden the new tax regime. Then we must close the LLC loophole by which LLCs pay NO TAXES; commit to improving infrastructure (road and bridges); and lower the tax on food. Each of these points was then highlighted by a spokesperson from the various coalition partners.
Marcus Baltzell, Director of Communications for the Kansas NEA, took up the issue of the "March to Zero." In 2012, Brownback set Kansas on a path to eliminate the state income tax. What this has caused is nine rounds of budget cuts and forced paybacks by government institutions, including K-State, while crippling the state's ability to serve the mentally ill, the disabled, and our senior citizens.
Basically the "March to Zero" is the love child of those who want to reduce government down to the size, to quote Grover Norquist, that it can be drowned in a bathtub. The goal is to destroy our civil government and replace it with corpocracy - a society where the interests of large corporations control economic and political decisions. Just look at who Trump is nominating for his cabinet to get a glimpse of this world.
Baltzell explained that the "March to Zero" caps the tax rate and thus limits spending growth. It does this so drastically that Kansas is prevented from fulfilling the most basic services to its citizens. For example, the Kansas population has grown by 190,000 people and we have no means to address their needs.
What the March to Zero does in reality is limit Kansas' ability to grow economically and thus forces privatization as the state can no longer afford to build roads, fund schools or even our court system.
Hiede Holliday, director of the KCEC, then took up the issue of fixing the imbalance Brownback and his supporters have created in the individual income tax rates by the elimination of the third tax rate.
In 2012, Kansas had three tax rates: people who earned more than $30,000 paid a tax rate of 6.45%. Individuals earning between $15,001 - $30,000 paid a tax rate of 6.25%; today they pay 4.6%. Individuals who earned $15,000 or less paid 3.5% income tax; today they pay 2.7%. By eliminating the third tax bracket, multi-millionaires now pay the same tax rate as someone earning $15,000 a year.
Holliday explained that individual rate cuts account for 70% of Brownback's tax plan's unaffordable price tag. When the new plan was enacted, 50% of Kansas' revenues came from individual income tax. The first year of Brownback's new plan damaged state finances more than the entire Great Recession in the 1930s and set our state on the downward economic spiral of shortfalls.
Holliday highlighted that the proposal put forth has set 2 goals: impact as few Kansas as possible, but impact those who can most afford to pay more taxes. "Too many at the top aren't paying their fair share," she stated. "If you want to fix this problem, we've got to turn our tax code right side up."
Rebecca Proctor from the Kansas Organization of State Employees, then took up the issue of the exemption of LLC's from paying taxes.
Originally it was touted as a "shot of adrenaline to the heart of Kansas' economy" that would spur job creation and prosperity. Four years later, this part of Brownback's plan has gained the most media coverage as it has created the huge loophole by which many people get away without paying any taxes at all. It now costs the state $290 million in lost revenues each year and in 2015, Kansas ranked 46th in job creation. So much for that "short of adrenaline" that Brownback and his Kansans for Prosperity cronies promised. Eliminating the LLC loophole would generate about $721 million in revenues for the state.
Bob Cotton from the Kansas Contractors Association stated that over $1 billion has been diverted from the highway fund since Brownback took office. Cotton outlined the need to increase the gas tax, which has remained stagnant since 2003 while the cost of maintenance and repairs to our roads and bridges has increased by 31%.
Cotton pointed out that every dollar the state spends on roads generates $5.00 in income for the state. However, many of Kansas road construction workers are no longer working in Kansas, but are in neighboring states because of the failed Brownback tax policy. This means they are paying taxes in Nebraska or Arkansas and purchasing goods in those states instead of Kansas, further contributing to our economic problems.
The tax plan KCEG rolled out proposes an increase of 11 cents per gallon to the gas tax, bringing the total to 35 cents. This is needed just to hold the highway fund harmless (keeping it flat funded for next fiscal year). The increase is needed because KCEG's proposed plan would divert 4/10's of a cent of sale tax, which is supposed to be dedicated to the highway fund, to the state's general fund for three years providing $200 million in revenues to help sure up the overall economic health of the state. Cotton reminded the audience that even if the proposed increase would go into effect, it would take a year to generate new revenue for the state's infrastructure. Cotton agreed that raising the gas tax isn't ideal, but it is the least harmful path out of the mess Brownback has created.
Next Annie McKay, director of Kansas Action for Children, took the podium. "Your presence here sends a powerful message to policymakers," she said. "We branded this campaign Rise Up Kansas because that's what we're asking both policymakers and Kansans to do. We need legislators to rise above partisanship and embrace the urgency of the problems by rejecting anything that does not end the crisis for good." She then presented the coalitions proposal on lowering the tax on food.
Kansas base sales tax is 6.5%. When country and city sales taxes are added to that base, in some areas people are paying 11% sales tax on the food they eat. Nebraska and Colorado both have a 0% sales tax on food; Missouri has a 1.225% rate and Oklahoma has a 4.5% rate. Kansas is one of only seven states that fully taxes groceries and we have the second-highest food sales tax in the nation!
KCEG is proposing a roll back to a 5% tax rate for groceries, which is a start. Long-term we need to eliminate the tax on food altogether, but that is going to require that the richest amongst us pay their fair share in income and other taxes, something Brownback is fundamentally opposed to.
Research conducted by KC Healthy Kids has found that the sales tax on food costs the average rural Kansas grocer close to $18,000 a year by reducing grocery sales and forcing consumers to choose cheaper, often less nutritious, items.
McKay said: "we can't put a price on human potential" but the Brownback tax policy "paralyzed our ability to be pro-active" in meeting the needs of our fellow Kansans. By increase the state's sales tax, the legislature placed the burden of Brownback's tax policy on Kansas' poorest residents. The lowest 20% of income earners pay 11.1% of their income in state and local taxes compared with 3.6% for the top 1%.
Goosen then concluded the policy roll out by saying that Brownback's tax plan has cost our state dearly. "It's very important to have a long-term plan that fixes our balance problems and the fiscal situation before doing any kind of short-term fix." He stress that the proposed policies the coalition is rolling out is just a starting point.