MANHATTAN, Kan. - I first met Usha Reddi some 13 years ago, when I was a PhD graduate student at K-State's College of Education and she was working on her ESL endorsement as she entered the job market after being a stay-at-home mother.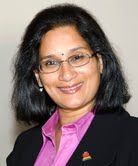 Reddi has lived in Kansas for over 20 years. She arrived here when her former husband came to teach and conduct research at K-State. She is the mother of three children, all of whom went to Kansas public schools. Two are now pursuing medical degrees at the University of Kansas and the University of Missouri-Kansas City while her eldest is finishing his graduate degree in social work at Columbia University. It was during her children's education here in Manhattan that she became a school volunteer and discovered her love for working with children.

After completing her second bachelor's degree in elementary education at K-State - her first degree was in developmental psychology from Ohio State - she when to work for USD 383 and held several positions, Curriculum Coordinator, Pre-K teacher, before she settled into the role of first grade teacher at in the Ogden Grade School. Ogden serves the military community stationed at Ft. Riley and is USD 383's highest poverty school. As a result, Reddi has a comprehensive understanding of the issues facing parents and grandparents as they raise their children/grandchildren in an era when education is more about taking test than preparing students for higher education or the job market.
Her years at the Ogden elementary school has provider her with a practical knowledge of what mandates and underfunding is doing to the next generation of Kansans - putting them at a disadvantage. Her advocacy for the students she teaches has taken her into the broader Manhattan community where she has participated on panels discussing the future of education in our state and she has served on a variety of committees and boards including the United Way and the Manhattan Public Library.
In the August primary Reddi faces Carol Viar from Saline County. Viar has served on USD 306 School Board and has served as Board president. The Republican candidate is Deena Horst, who served in the Kansas legislature from 2006 - 2010. Horst voted to expand coal-fired power plants and legalize concealed weapons while she voted against things like banning smoking in public places and the Kansas Taxpayer Transparency Act. She is opposed to the teaching of evolution and wants creationism taught in science classrooms.
[Update: At the candidate forum sponsored by Kansas Citizens for Science on Monday 23 July in Manhattan, Horst told the crowd that she supported the teaching of evolution in the science classroom and that creationism should be taught in a social studies class, religion class, or other appropriate venue. This appears to be a change from her previously held position. Interested individuals can review her voting record from her time in the Kansas Legislature at Project Vote Smart and make their own decisions.]
I sat down with Usha for this interview at her home.
What are the major issues facing Kansas schools?
"I have three issues I focus on: Funding, high academic standards and getting students ready for college and careers," she responded.
"Funding is the number one issue for me. With the rise in high-stakes testing, legislators have a false sense of security that our schools are fine as they make the targets she for them by Adequate Yearly Progress" - the numerical game of test scores that the federal "No Child Left Behind" legislation requests - "but the test scores do not show the decline in the number of 2-parent families and an increase in the number of children living in poverty in our state," said Reddi.
As a result of the emphasis on testing "students aren't becoming independent thinkers as teachers teach to the test more and more and students give up on things they don't understand because we are no longer taking the time to educate them on concepts behind the answers. This is leading to the creation of a generation of Kansans who aren't going to contribute to our democracy or have the skills needed for the job market."
Reddi works to instill in the parents and grandparents of the children she teaches to be advocates for their children. "They have to know what they need to ask from the schools for their children. If they don't ask schools to be more, then the focus will remain on testing and not on educating."
When it comes to high academic standards, Reddi feels that the state is on the right path in the creation of common core standards that will emphasize a more holistic approach and students will learn the concepts behind the answers, and not just route memorization of answers for a test. Employers are calling for such a move across the US as more and more students graduate without the skill set needed to be employed in the 21st century.
"The adaption of the common core standards will require more professional development," said Reddi. "It will change the emphasis of our practice in the classroom and I don't see money being set aside to train educators or provide them with the resources they will need to increase academic rigor across the curriculum."
Finally, getting students ready for college and careers implies that a dialogue occurs between the business/work community, public schools and institutes of higher education. "Students don't have the skills they need to be successful in college," Reddi continued. "Research shows more and more students are failing and dropping out during their Freshman year as universities expect students to be able to analytically think about the content being placed in front of them. At the same time employers says students don't have the skills needed to operate computerized production machines or develop products for our economy. We need to step back from the focus that has been placed on standardized testing and focus on core curriculum and student needs."
How have the policies that Governor Brownback has implemented in the past two years affected Kansas schools?
"Brownback's tax cut is going to have a tremendous impact on our schools. Kansas schools will lose $400 million in 4 - 5 years. Even if you look at what was done this year with the surplus the state had - only $40 million went to schools. What this will mean at the local level is that school boards are going to have to make up the difference by raising local property taxes. Schools will have less resources, large class sizes, and more challenges when our state and nation needs a highly educated working class."
What can people do to support Kansas schools?
"Kansans of all ages, regardless if they have children in school or not, need to be informed about what their local schools are doing. Parents and grandparents need to know what their child/children need to be successful in the classroom and advocate for that. Parents and grandparents need to talk to legislators and hold them accountable for what they do to the financial well being of our schools and the economic contributions Kansas schools make to the local economy. If the parents/grandparents don't know what the local school needs, they should talk with one of the teachers, administrators, or local PTO and find out what they need to be asking of their legislators. This is how I see my role as a member of the State Board of Education - to inform my constituents and enable them to be advocates for their schools."
Why are you running for the State Board of Education?
"I see so many things going on in the classroom - from ineffective policies to underfunded mandates that take time away from what should be our number one priority: the education of children in a safe supportive environment. Kansas needs to continue to be known for the quality of our education system and make sure that system stays in place and isn't squandered by politicians with agenda designed to harm our next generation."
How are you different from the other candidates in District 6?
"I know first hand what children, parents and other educators are facing everyday in our schools. As a teacher my work goes beyond the work hours as I continue to be an educator in the community building strong relationships with parents and community members. I know the struggle that special need parents, military parents and single-parent families go through just to get the minimum for their children. The stories of the parents and grandparents I work with will go with me to Topeka where I will advocate for them at the State Department of Education and legislators and will work to ensure all Kansas children have access to a quality education."
If you make it through the primary on August 7th and are elected in November, what are some of the goals you wish to achieve during your tenure on the Kansas State Board of Education?
"My first goal is to build relationships and broaden communication with legislators and voters. I want to build trust."
"My second goal is to advocate for better funding and higher academic standards for Kansas schools by setting a path for success in college and careers for our students."
"I'm already in the trenches, I want to go to the front lines and win one for Kansas children."
Finally, why should Kansas Democrats vote for you in August and all Kansas in November?
"The parents and grandparents of my students already trust me as a teacher. Parents didn't ask if I was a Democrat or a Republican when they left their children with me on the first day of class each August. Parents often request that their children be placed in my classroom because they trust me to provide the best education I can for their children. As a teacher the parents have never once questioned my motivation, they know I will work for their children and that is what all Kansans need to know."
You can visit Reddi's webpage at: http://www.reddiforstateboard.com/

Map of District 6.