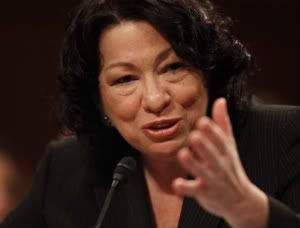 MANHATTAN, Kan. - The Landon Lecture series at K-State opened the 2011 season with Supreme Court Justice Sonia Sotomayor on Thursday January 27th. Sotomayor spoke in Forum Hall at the K-State Student Union, becoming the third Supreme Court justice to address the K-State student body, following Earl Warren and Sandra Day O'Connor.
Breaking with tradition and creating the atmosphere of an armchair chat, Sotomayor took questions in a forum format from District Justices Deanell Tacha and John Lungstrum who were joined by Danny Unruh, K-State student body president.
Sotomayor had braved the inclement weather on the east coast to come to K-State, saying when she left Washington that morning her home was without power.
Judge Tacha opened the discussion asking Sotomayor to describe her day so that the audience could get a better idea of what it is like to serve on the Supreme Court.
Sotomayor responded that she reads a lot, spending her weekends chewing through circuit briefs and court decisions, in order to be able to engage with the other justices in the decision making process. "Getting four people to agree is difficult," she said.
As Sotomayor modeled throughout her time at K-State, she is very dedicated to the educational aspect of her job and it takes up a significant amount of her time as she meets with the public - from school children to retired persons on tours of the Supreme Court - to discuss how the court functions and the role it plays in our democracy.
When asked by Danny Unruh to discuss her most defining moment in her career, she replied that it wasn't "one" but rather a sequence of events. She told the audience that since she was a young girl, she wanted to be a lawyer and her deep love for the law. She encouraged the students in the audience not to type cast nor judge themselves, but to follow their passions and to take joy from what they do.
Judge Lungstrum then asked her is "the law an area to go into?" Sotomayor replied that people should not go into the law because it is a "career" but rather to go into it because "they love the law." She shared with the audience that her first job paid her more than her mother had earned in her entire lifetime, but she cautioned, "our culture has overblown what success is." If a person wants to go into the law, it shouldn't be based solely on money.
Turning to an accusation often leveled against judges by the right-wing, Judge Tacha asked "do judges make the law or interpret it?" Sotomayor pointed out that people in civil law countries only have the rights that are written in the law. In the oral tradition like the U.S. and Great Britain, the law has a different tradition; judges define the parameters of the law. Thus she has to come to what is her best interpretation in any given situation, which often means that some people aren't happy with the outcomes. Judges do not create law. They take the law as written by the people's representatives and put it into context based on our historical documents and oral tradition. It is a very complex process.
Unruh then asked how she kept up with the pulse of the country. Sotomayor responded that she reads newspapers, follows broadcast news, but mostly she talks with people. For her spending time talking with others, finding out what they do, what troubles they face, etc., is important in order to understand what is happening in the broader society.
When asked about the ability of the law to keep up with technology, she broke the question into two parts: How do judges keep up with changes and the learning component in the law. For the former, it isn't easy, even though she is computer literate; some of her colleagues are not. The latter is a major worry for Sotomayor. She talked about the overload aspect - so much information is available in the digital age, "how do you sort through all the information," she asked. As for the impact of social media, while she is not part of it, she is still learning about it and what impact it will have on how we interact with one another.
Probably her most insightful discussion of the day came in response to a question on affirmative action. Sotomayor pointed out that it had become a buzzword amongst those opposed to quotas to correct the institutional injustices done to people who were not part of the ruling elite in this country. She said that affirmative action was just beginning as she was growing up and at that time it was understood that institutional racism had blocked the advancement of women and people of color.
"If all you have is white male supervisors, their idea of success is determined by their vision of success," she said. Affirmative action looked at the system and questioned why only men, only whites, were advanced. She stated that because of affirmative action she was able to advance in what was predominately a white male world. Affirmative action makes people sensitive as to why they are making the decisions they do, which is good for our society. "There are still blocks," she went on. "Why do we live in a society were the poorest children get the poorest education?" She concluded her comments by saying those structural blocks to equality still exist and they must be fixed for the good of the entire country.
Judge Lungstrum pointed out that she was the first Supreme Court justice to serve as a trial court judge. He wanted to know how this influences her in her daily work.
Sotomayor responded that she pays more attention to circuit court splits on issues than do her colleagues. She pointed out that trail court judges must follow procedural rules, thus when one circuit decides one way and another the opposite, this is usually a signal to her that something is wrong with procedure.
Judge Tacha returned to the personal by asking Sotomayor for her personal reactions, in particular what surprised her the most, about the Supreme Court.
Sotomayor responded that she feels a great burden on her decision-making, because if the Supreme Court doesn't get it right; there is nowhere else for people to go. Thus she feels great responsibility to decide each case. She was pleasantly surprised by the collegiality among the judges on the court and their deep reverence for the court as an institution.
Unruh then asked Sotomayor about the proposal that Democrats and Republicans set together for the President's State of the Union address. Sidestepping a direct response, Sotomayor looked out into the audience and told of how she and another lawyer fought "tooth and nail" in the courtroom, but they are friends. She discussed how this is something she learnt during the practice of the law - that having opinions are important but people opposed to each other still have the same human qualities. She said that she had to put herself in the trail attorney's shoes and understand what they are going through. "We can agreeably disagree without becoming vicious," she concluded.
Her final question was in regards to social issues and the role of the university to address them. Sotomayor responded, "universities need to take students out of their comfort zones and challenge them." She challenged students to become a renaissance person by taking a variety of courses that give them the possibility of understanding the issues facing our society from multiple perspectives and learn how those perspectives work together to create a common whole. She joked how it might be a good idea for doctors to take a course in law, for their own good.
The lecture concluded with Justice Tacha reflecting on the 150th anniversary of Kansas statehood, pointing out that at one time Kansas had more federal district courts than any other state due to the existence of numerous military outpost in the Kansas territory and that the courts are celebrating their 150 years of history as well this year.