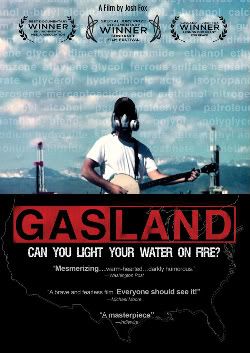 MANHATTAN, Kan. - The Manhattan Monthly Film Series continues in February with the showing of the Josh Fox's GasLand, winner of the Special Jury Prize at the 2010 Sundance Film Festival. The film will be shown at 6:30 pm on Wednesday February 9th at the Manhattan Public Library. The film is free of charge and open to the public.
GasLand looks into the Halliburton-developed drilling technology of "fracking" or hydraulic fracturing that has contributed to the largest domestic natural gas drilling boom in history. But serious questions exist to its safety and environmental impact.
Director Josh Fox becomes personally involved with the issue when he is asked to lease his land for drilling. Unable to get his questions answered, he embarks on a cross-country odyssey uncovering a trail of secrets, lies and environmental contamination. A recently drilled Pennsylvania town reports that residents are able to light their drinking water on fire. This is just one of the many absurd and astonishing revelations of a new country called GASLAND. The film is part verité travelogue, part expose, part mystery, part bluegrass banjo meltdown, part showdown. It informs the American people about another legacy given to us by the Bush administration.
What is Fracking?
Hydraulic fracturing, "fracking," is a means of natural gas extraction employed in deep natural gas well drilling. Once a well is drilled, millions of gallons of water, sand and proprietary chemicals are injected, under high pressure, into a well. The pressure fractures the shale and props open fissures that enable natural gas to flow more freely out of the well.
Two types of fracking are used in gas exploration. Horizontal hydrofracking is a means of tapping shale deposits containing natural gas that were previously inaccessible by conventional drilling. In this process the after drilling down to the desired depth, the drill bit is turned 90 degrees and continues to drill horizontally under shale deposits. Vertical hydrofracking is used to extend the life of an existing well once its productivity starts to run out, sort of a last resort. Horizontal fracking differs in that it uses a mixture of 596 chemicals, many of them proprietary, and 1-8 million of gallons of water per frack. A dwell can be fracked up to 18 times using 8 - 144 million gallons of water. The used water becomes contaminated in the process and must be cleaned and disposed of but it is now know that only 30-50% of the water is typically recovered from a well. This wastewater can be highly toxic and is non-biodegradable. In addition, the procedure is a major contributor to CO2 emissions, as the waste must be hauled by semi-truck to each drilling location and then hauled away to be "processed."
For each frack, 80-300 tons of chemicals may be used. Presently, the natural gas industry does not have to disclose the chemicals used, but scientists have identified volatile organic compounds (VOCs) such as benzene, toluene, ethylbenzene and xylene. In total 96 compounds used in fracking have been identified as hazardous to human health.
Allowed by a loop-hole in the Bush/Cheney Energy Bill that exempted natural gas drilling from the Safe Drinking Water Act. The loophole exempts companies from disclosing the chemicals used during hydraulic fracturing. By writing this exemption into law, the provision took the Environmental Protection Agency (EPA) off the job.
The eastern third of Kansas has been identified as a potential gas field for fracking giving us all pause to be concerned.
Health ramification reports are terrifying. Drinking water near fracking well sites has become so saturated with natural gas that it burns when an open fame is passed near it, livers/hearts/respiratory systems fail, rare forms of cancer mysteriously grow, and cows drop dead.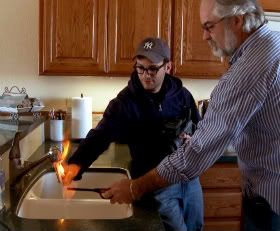 In 2009, in Louisiana, sixteen cows dropped dead within hours of drinking from puddles tainted with a mysterious green fluid in a pasture next to a fracking well site. Chesapeake Energy, the company that owned the rig, refused to identify the chemicals in the fluid.
In 2008, Cathy Behr, an emergency room nurse in Durago, CO, who briefly came into contact with fracturing fluids after treating a worker who was caught in a chemical spill. nearly died from acute liver, heart, and respiratory failure.
In response to the situation, some states and towns have taken matters into their own hands and saying "No" to hydraulic fracturing. The City of Pittsburgh recently banned hydraulic fracturing within city limits by invoking its citizens' rights to clean air and water.
Closing the loop-hole in the Bush/Cheney Energy Bill.
The Fracturing Responsibility and Awareness of Chemicals Act (H.R. 2766), (S. 1215) was introduced to both houses of the United States Congress on June 9, 2009. The bill aims to repeal the exemption for hydraulic fracturing in the Safe Drinking Water Act. It would require the energy industry to disclose the chemicals it mixes with the water and sand it pumps underground in the hydraulic fracturing process, information that has largely been protected as trade secrets. Controversy surrounds the practice of hydraulic fracturing as a threat to drinking water supplies.
The FRAC Act has gained little support in the former Congress and with Republicans controlling the House, you can bet that no action will be taken in the new Congress. Instead, in another demonstration of how broken Congress is, lawmakers from both parties are finding common ground championing legislation that would give $5 billion in subsidies to the natural gas industry. Lead by T. Boone Pickens and his demands for an "energy plan," politicians have been convinced that natural gas is the solution to climate change, will help get America off foreign oil, and as the "clean" alternative to offshore oil drilling. Fracking is none of those things! GasLand shows us just what the emperor's new clothes are really made of.
About Josh Fox
Fox is the founder and artistic director of the International WOW Company. Fox has written/directed/produced two feature films and over twenty works for the stage which have premiered in New York, Asia and Europe. His narrative feature film debut MEMORIAL DAY (2008), is a jarring roller coaster ride from the beaches of girls-gone-wild spring break to the torture chambers of Abu Ghraib, premiered at CineVegas Film Festival and went on to have a successful limited run at IFC Center in New York. His recent work for the stage includes SURRENDER, an interactive war epic premiering in New York City, which was nominated for a 2009 Drama Desk Award and AUTO DA FE, which premiered in New York and will tour to Japan in 2011. All of Josh's work is produced and created with the award winning International WOW Company, a theater and film group with membership of over 100 actors, dancers, musicians, technical, and visual artists spanning 30 countries on 4 continents. The New York Times hailed him as "one of the most adventurous impresarios of the New York avant-garde" and Time Out NY called him "one of downtown's most audacious auteurs," citing his "brilliantly resourceful mastery of stagecraft." Josh earned his BA from Columbia University.
The following video features Josh Fox being interviewed on the Daily Show: