COUNCIL GROVE, Kan. - So we have completed two regional visits, dabbling a bit in the mysteries of story and geography. What are we to make of this? What, indeed, is the point?
A full explication will not be forthcoming here. I will only position a few signposts, five to be exact, that help me, and perhaps you, engage the challenge posed by the somewhat immodest title of this article -- "Reclaiming the Sacred in the Kansas Landscape." Each of these warrants a full essay in itself, a task deferred for now.
The signposts:
1. Acknowledge the losses.
2. The sacred is located in relationship.
3. Language matters.
4. Place matters.
5. It's not over, it's just beginning.
1. Acknowledge the losses.
Picture that first bulldozer grinding its way noisily up the mound of Wakanda Springs with a load of rubble, its elevated rusty yellow bucket full of limestone, glass, steel, chunks of concrete, exhaust pipe coughing black smoke, rumbling up to the pool's edge, engine vibrations shaking flesh, earth, and water, a hand grasps a lever, bucket's sudden swivel cracks like a gunshot, a flash of suspended debris, glass glints in sunlight, the plunge...
After all, it was perfectly logical what was done. We're talking efficiency in trash disposal. It was only a curious water hole soon to disappear below the lake that would bestow its blessings of flood control, recreation, irrigation, wildlife habitat, a water supply for cities. Perfectly consistent with the larger aims of our civilization: productive land use, effective application of technology, the protection of American lives and property from nature's caprices, economic development. In a word, progress.
The Kanza Indians removed from the state in 1873. The last wolf recorded in 1905. Otters no longer swim in our streams. Relative to their original numbers and distribution, elk, pronghorn and bison are greatly diminished. Hundreds of thousands of native grass acres turned under, meaning complicated and beautiful prairie ecosystems displaced by agricultural commodities. In recent years an estimated 10,000 acres of Flint Hills prairie succumb annually to encroachments of woody vegetation and multiple forms of human development. Small towns and small farms wither away. Soil erodes. Streams treated like sewers. Mass consumer culture drives out place-based alternatives. Go on, create your own catalog of loss.
I am not interested in white man's guilt trips. I don't think we need to dwell incessantly on Indians as victims. I weary of elegies for nature and indigenous peoples. I am aware that historically Indians have sometimes acted in ecologically damaging ways. And I know American Indians are not relics of the past. But to integrate the land and its stories into a more vital, place-centered consciousness, it seems to me necessary first to learn the story of our native peoples and the land before Euro American settlement. Then contemplate the devastating impact of our industrial civilization. As Carl Jung and many others have pointed out, the dark places in our consciousness, if left unexamined, contain the seeds for their re-visitation as powerful pathologies.
2. The sacred is found in relationship.
Embedded in Nepaholla and Big Red Rock stories is the practice of gift-giving. At Wakanda Springs the Kanza and other tribes threw into its waters various articles of value; at the Big Red Rock the Kanza regularly offered sacrificial prayers and offerings. These gift offerings, tokens of honor and respect for the great powers or Wakandas implicit in these holy sites, were the transferences of matter and energy for purposes of creating and sustaining communal relations between themselves and the places of veneration, mutually enhancing exchanges between the manifested and the powerful unseen dimensions. In other words, they sought to make relatives of the Wakandas.
This sensibility of "archaic" people is articulated by anthropologist Mircea Eliade in this way: "They ... were concerned only with the circulation of sacred energy in the cosmos (from the divinity to man and nature, then from man -- through sacrifice -- back to the divinity, and so on)."
A modern equivalent is, perhaps, expressed by Eckhart Tolle: "You need nature as your teacher to help you reconnect with Being. But not only do you need nature, it also needs you." Wakanda Spring and the Big Red Rock afforded the Kanza portals for the exchange and amplification of this "sacred energy," a transference that profoundly revitalized the earth, Wakanda, and the Kanza.
3. Language matters.
I'm thinking principally of two closely related areas: names and stories. Take the Kanza Indian name for our river which does not show up on our modern maps -- Nepaholla. As stated before, the Kanza Indians named the Solomon River for this spring, calling it Nepaholla, meaning "Water-on-a-Hill," an apt description of Wakanda Springs. I prefer Nepaholla over Solomon for these reasons: The source of the name "Solomon" is obscure, the best explanation being that the river was named for a French official headquartered in New Orleans whose name, though not actually spelled Solomon, bore it a phonetic resemblance.
This vague and uninspiring word pedigree contrasts with Nepaholla, which conveys a precise image of a unique and renowned natural feature of this river valley, a word uttered for generations by the original Kansans in their native tongue, a term, as we have seen, evoking an earth-and-water icon of profound significance in the tribe's sacred traditions.
And keep in mind that until the mid-1850s, Nepaholla was often used by Euro American map makers as the river's primary name. Explorer Captain John W. Gunnison, who led his expedition through the upper Kansas River valley in early July, 1853, reported he "crossed the Nepeholla and Saline rivers by ferrying on rafts of logs." But ultimately, the native term was displaced by the colonizers, severing yet another vital connection between language and landscape and our imaginations.
William Least Heat-Moon, in his book about Chase County, PrairyErth: An Epic History of the Tallgrass Prairie Country
, laments that "when the Kansa Indians were pushed out of the state, they carried with them the last perception of wind as anything other than a faceless force, usually for destruction .... it has no identity but a direction." A local preacher told Heat-Moon: "Giving names to nature is unchristian." The author responded by saying "it might help people connect with things, and who knows where that might lead." The preacher replied: "To idolatry."
And now, briefly, about that complex, magical and transformative artifact of language -- story. David Abram in his masterful and inspiring book, The Spell of the Sensuous
, wrote that events depicted in story belong "to the place, and to tell the story of those events is to let the place itself speak through the telling." That land exercises the agency of expression in story is considered radical in our culture. It is time to take this notion seriously. "It is the animate earth that speaks," wrote Abram, "human speech is but a part of that vaster discourse."
This form of story-telling is not anti-intellectual. It does not negate knowing the place's geology, biology, and history. Our treatment of both Wakanda Springs and the Big Rock should make that clear. But story that embraces the sentience and expressiveness of place, in Abram's words: "makes sense," that is it "stirs the senses," releases "the body from the constraints imposed by outworn ways of speaking, and hence to renew and rejuvenate one's felt awareness of the world."
4. Place matters.
In 1997 I attended a conference in Topeka about the Kansas River. We broke into groups of a dozen or so to discuss particular topics. Somehow in my group the idea of the Kansas identity related to the Kansas River came up. We reflected on our memories of the river; we deplored the fact Kansans overwhelmingly ignored their greatest river; we speculated on how by means of education and non-school programming we could construct a cultural shift whereby Kansans would embrace the river, help to protect the river, enhancing their Kansas identity in the process. Amidst all the dazzling verbal exercises, three American Indians, a professor from Haskell Indian Nations University and his students, sat in silence. Someone asked their thoughts. The professor, without the least rhetorical flourish, calmly said: "In regards to the Kansas identity and the river, our traditions are different. We are the river and the river is us."
If my memory serves me correctly, the American Indians had little to say after that and the rest of the group went on strategizing our revolution in the Kansas consciousness vis-à-vis the river. But over the years that moment has stuck with me for many reasons. And in the context of place matters, "We are the river and the river is us" means place really, really, really, really matters.
This past Halloween day an article appeared in the New York Times about a meditative garden that will contain 1,000 Buddha statues being created by Tibetan Buddhists on the Salish and Kootenai reservation in Montana. Its objective is to promote world peace. The Dalai Lama has agreed to come there in 2012 to consecrate the Garden. In the process of planning and executing this garden, there have been tensions to be resolved between the Buddhists and the American Indians. The Buddhists have acted to resolve these tensions in various ways, one being bringing traditional gifts of tobacco and prayer scarves to the tribal councils. But according to one Salish Kootenai leader, "there was also an uncanny relationship between the tribal and Buddhist cultures ... a shared vision of cultures being under pressure and surviving."
The Buddhists and Indians discovered they both used juniper and sage as purifying incense for ceremonies, similar prayer cloths, similar ritual drumming. They also found common ground "based on understandings of sacred landscapes." "One Tibetan lama said: "There is something pure and powerful about this landscape." He went on to say, "good Karma, or spiritual energy, is ebbing from the earth, and the garden will help enhance it." I bring this up in anticipation that the idea of sacred landscape may be dismissed as just another fuzzy, self-indulgent New-Agey trip. This it is not. It is in fact an inter-continental feature of the most venerable and rigorous spiritual traditions, as solid as the ground under your and my feet.
5. It's not over. It's just beginning.
I am not interested in a cultural conversion program whereby we do a wholesale adoption of American Indian religious forms to address our pressing environmental and spiritual crises. However, I have deep respect for American Indian wisdom, especially its understanding that, in the words of the Sioux author and educator Charles Eastman, "spirit pervades all creation and every creature possesses a soul." This important insight is not the end of our journey; rather, it provides a base from which to begin a serious inquiry. Embracing both the wisdom of native traditions and science, and, in the words of Wendell Berry, "Staying away from anything that obscures the place it is in," it's time to move forward into a re-exploration of this landscape. "Now that new lands are completely gone and wilderness is nearly gone," writes Don Gayton in Landscapes of the Interior
, "We must turn the telescope of exploration around, to find mystery and complexity in the fine details of what is left."
"Ours is a baby culture," said poet Gary Snyder, during a walk with a friend near Sourdough Mountain. "We'll need a hundred poets on Sourdough and a thousand other peaks to create a rooted culture here."
SOURCES:
Stillness Speaks, Eckhart Tolle. New World Library, 2003, pp. 84-86.
Cosmos and History: The Myth of the Eternal Return, Mircea Eliade. Harper and Row, 1959, p. 110.
Kansas place-names, John Rydjord. p. 109.
"Kansas Before 1854: A Revised Annals," Louise Barry. Kansas Historical Quarterly, (spring, 1967), p. 43.
PrairyErth: An Epic History of the Tallgrass Prairie Country, William Least Heat-Moon. Houghton Mifflin Company, 1991, pp. 40-41.
The Spell of the Sensuous: Perception and Language in a More-Than-Human World, David Abram. Vintage Books, 1997, pp. 163, 179, 265.
"On an Indian Reservation, a Garden of Buddhas," Jim Robbins. New York Times, October 31, 2010.
Landscapes of the Interior: Re-Explorations of Nature and the Human Spirit, Don Gayton. New Society Publishers, 1996, p. 38.
"Busted Beer Cans and Baby Culture," Jeff Muse. High Country News, August 30, 2010, p. 13.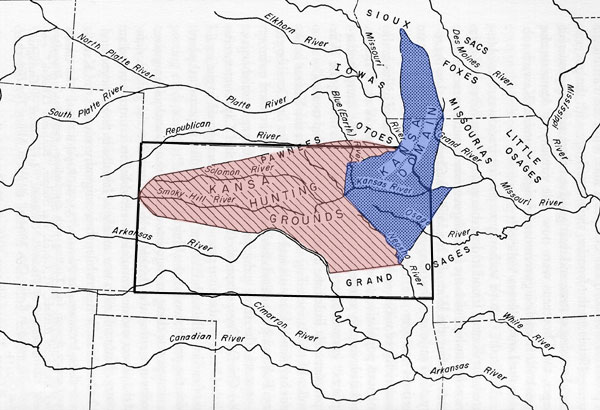 South fork of Solomon River, 1890