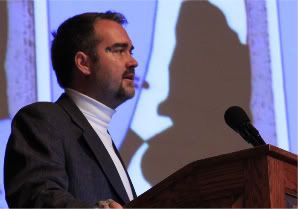 MANHATTAN, Kan. - Kenneth O'Keefe was on board the ship Mavi Marmara on May 31, 2010 when Israeli commandos attacked the ship and killed nine of its passengers. The following is an excerpt from O'Keefe's written account of what happened, and his reflection on the limits of non-violence. O'Keefe spoke at K-State University on 5 October. The lecture was sponsored: the Manhattan Alliance for Peace and Justice, K-State Amnesty International, and K-State Departments of Philosophy, and Sociology, Anthropology, and Social Work. The podcast of his speech is available below.
I have for many years understood that we, people of conscience, are the true holders of power in this world. Frustratingly, however, we have largely relinquished that power and failed to reach our full potential ...
In 2007 I joined the Free Gaza Movement with its plan to challenge the blockade of Gaza by travelling to Gaza by sea. From the moment I heard of the plan, I knew it could succeed and ultimately I served as a captain on the first attempt. The Israeli government said we were no better than pirates and they would treat us as such. They made clear we would not reach Gaza. And still I knew we could succeed. And we did. Two boats with 46 passengers from various countries managed to sail into Gaza on August 23, 2010; this was the first time this had been done in 41 years. The truth is the blockade of Gaza is far more than three years old, and yet we, a small group of conscientious people, defied the Israeli machine and celebrated with tens of thousands of Gazans when we arrived that day. We proved that it could be done. We proved that an intelligent plan, with skilled manipulation of the media, could render the full might of the Israeli Navy useless.

Asked once if I was a pacifist, I responded with a quote from Gandhi by saying I am not a passive anything. To the contrary, I believe in action, and in self-defense, 100%, without reservation. I would be incapable of standing by while a tyrant murders my family, and the attack on the Mavi Marmara was like an attack on my Palestinian family. I am proud to have stood shoulder to shoulder with those who refused to let a rogue Israeli military exert their will without a fight.  And yes, we fought.

I believe non-violence must always be the first option. Nonetheless I joined the defense of the Mavi Mamara understanding that violence could be used against us and that we may very well be compelled to use violence in self-defense.

On the morning of the attack I was directly involved in the disarming of two Israeli Commandos. This was a forcible, non-negotiable, separation of weapons from commandos who had already murdered two brothers that I had seen that day (one with a bullet entering dead center in his forehead, in what appeared to be an execution). I knew the commandos were murdering when I removed a 9mm pistol from one of them. I removed the bullets and hid the gun in the hopes that we would repel the attack and submit this weapon as evidence in a criminal trial against Israeli authorities for mass murder. The women provided basic first aid, and ultimately the commandos were released, battered and bruised for sure, but alive. Able to live another day ...

While in Israeli custody I, along with everyone else, was subjected to endless abuse and flagrant acts of disrespect. Women and elderly were physically and mentally assaulted. Access to food and water and toilets was denied. Dogs were used against us; we ourselves were treated like dogs.  We were exposed to direct sun in stress positions while handcuffed to the point of losing circulation of blood in our hands. I myself was beaten and choked to the point of blacking out. What I saw in this more than anything else were cowards... and yet I also see my brothers. Because no matter how vile and wrong the Israeli agents and government are, they are still my brothers and sisters and for now I only have pity for them. Because they are relinquishing the most precious thing a human being has, their humanity.

I would like to challenge every endorser of Gandhi who acknowledges him as one of the great souls of our time...I challenge you in the form of a question.  Please explain how we, the defenders of the Mavi Marmara, are not the modern example of Gandhi's essence? But first read the words of Gandhi himself.

I do believe that, where there is only a choice between cowardice and violence, I would advise violence.... I would rather have India resort to arms in order to defend her honor than that she should, in a cowardly manner, become or remain a helpless witness to her own dishonor. - Gandhi
To listen to O'Keefe's lecture at K-State, click the start button to listen in a streaming format or click on the MP3 file to download it to your computer. Run time: 1:05.
MP3 File