MANHATTAN, Kan. - August 26th marked the 19th Amendment's 90th anniversary. On August 18, 1920, the Tennessee General Assembly, by a one-vote margin became the thirty-sixth state legislature to ratify the 19th amendment to the U.S. Constitution. On August 26, 1920, Tennessee  Secretary of State Bainbridge Colby certified the amendment's adoption.  Women finally had universal suffrage in the U.S.  The campaign to achieve this feat had taken 72 years to complete.
The campaign began in 1848, when Gerrit Smith was nominated as the Liberty Party's presidential candidate and included in his acceptance speech a demand for "universal suffrage in its broadest sense, females as well as males being entitled to vote."  A month later, on July 19-20, 1848, in upstate New York, the Seneca Falls Convention on women's rights was hosted by Lucretia Mott, Mary Ann M'Clintock and Elizabeth Cady Stanton; some 300 attended including Frederick Douglass, who stood up to speak in favor of women's suffrage to settle an inconclusive debate on the subject.
While women nationally did not get the vote until 1920, Kansas and it's progressive leaders gave women the right to vote in 1912.
The Woman's Suffrage Amendment to the Kansas Constitution was ratified by the voters of the state by a majority of more than 160,000 votes on November 5th, 1912, making Kansas the seventh state to enfranchise women.
A primary reason for this success was the efficient organization and leadership provided throughout the campaign by the Kansas Equal Suffrage Association and the Men's Equal Suffrage League of Kansas. Two individuals of great importance to each of these organizations were Lucy Browne Johnston and her husband, Chief Justice William Agnew Johnston.
Both were conservatives with loyalties to the Republican Party and they agreed on such social issues as opposing capital punishment, and supporting prohibition and women's suffrage.
A spirited political and social activist, Lucy Johnston began her "active" work in the Kansas Equal Suffrage Association in 1910, when she was appointed to a legislative committee assigned to cultivate support for the Suffrage Amendment in the Kansas Legislature. In May 1911 her duties increased when she was elected president of the association and was saddled with running the ratification campaign.
In honor of the 19th Amendments anniversary, the September edition of the Monthly Film Series will screen Iron Jawed Angels on Tuesday, 13 September, 6:30 pm, Manhattan Public Library Auditorium.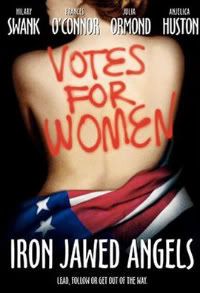 Iron Jawed Angels is director Katja von Garnier's 2004 sexy, exuberant tour de force that tells the amazing story of fierce young suffragettes fighting for a Constitutional amendment guaranteeing women the right to vote. Headlining the stellar cast are Hilary Swank as brainy, charismatic Alice Paul, and Frances O'Connor as smart, cheeky Alice Burns - real-life women who mobilized a defiant vanguard that gave Congress a run for its money.
In 1912, Paul and Burns took the reins of the National American Women's Suffrage Association's (NAWSA) committee in Washington, D.C., where they organize a landmark parade on President Wilson's inauguration day. The march is violently disrupted by men on the sidelines. Many more ordeals follow, including opposition from the more conservative NAWSA old guard (led by a deliciously persnickety Anjelica Huston), and grisly sentences as political prisoners.
Firing up an effusive contemporary pop score, a sweeping, restless camera, and a vibrant palette to match the suffragettes' radiant dynamism, von Garnier goes into high gear to tell a classic American tale of struggle for justice.
The film brims with issues still relevant today, as the plucky warriors grapple with racism within the movement, friction between work and relationships, and the implications of protesting a wartime president. A formidable testament to the sacrifices and the blood shed for women's enfranchisement, Iron Jawed Angels is just as relevant today as when it was released in 2004. Given Kansas has a whole slate of anti-women candidates with Brownback, Koback, and Pompeo among others, Iron Jawed Angels may just embarrass people into actually going to the polls in November and standing up to the anti-democratic forces trying to take over our government.