MANHATTAN, Kan. - Community Bridge, Manhattan's alternative to talk radio, is now entering its fifth year on the air with another season dedicated to informing the public debate on issues of interest to Kansans.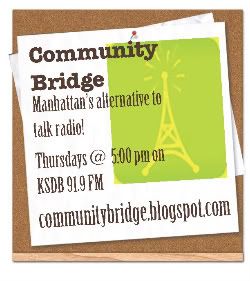 When I started this program in June 2006, it was mostly to provide some balance to the other talk shows on KSDB 91.9 and commercial radio in the Manhattan area. Every talk show was presented from a rabid right-wing perspective.
For over a year, the K-State's Progressive Coalition had been trying to get a moderate to left of center show on the air waves, but were blocked by the executive staff of the station. Only after a talk show host had had a guest who on air referred to the film "Brokeback Mountain" as "bareback mounting" and used other expletives to describe gay and lesbian people, that resulted in a formal complaint being filed with the FCC, did space become available for an alternative to the toxic talk of Rush Limbaugh wannabes.
Community Bridge began with one goal: to provide community with quality programming from a progressive point of view. To that end the show has worked hard to inform the public debate and provide listeners with content that is not available on other local stations.
In planning each season's line up, attention is given first to what's happening locally and the voices that are not being heard in the local for-profit media. This often means Community Bridge is the only place to hear "the other side of the story" for issues/events in Manhattan and Riley County.
Each season social service agencies and community groups are invited to come on air and discuss the work they do and how it impacts the area. Community Bridge has also worked to provide factual information on issues of ecological importance, from the proposed Sunflower power plant at Holcomb to the importance of reducing our individual carbon footprints by buying more locally produced food.
The show also showcases local music, events and K-State student groups like Hispanic American Leadership Organization, Ordinary Women, or Students for Environmental Action.
One draw back to hosting the show is it costs me six hours of tuition each semester. To be on air at KSDB one has to be enrolled as a K-State student. In 2007 I approached Kansas Public Radio about taking the show over to their air-waves. One would think that a locally produced public affairs show on issues of common concern to their service area would have interested the station, but alas it didn't. So I have kept on being a student.
What has been of real interest is that the show's reach has moved far beyond the local Manhattan area. Over time, the number of daily podcasts has consistently increased. Currently the show averages about 150 downloads daily via I-Tunes or RSS feeds. While that number pales in comparison to national syndicated shows that have thousands of daily downloads, they are good numbers for a show primarily about Kansas concerns.
For the Fall 2010 season, Community Bridge is dedicating a good portion of its air time in September and October to providing in-depth discussions with candidates running for elected office. Interestingly, none of the Republicans accepted the invitation to be on air - not Brownback, Jenkins, Moran, or local candidates for the State legislature or county commission. However, the Democrats all accepted the invitation.
In addition, Jeff Sharlot, author of the great Rolling Stone article "God's Senator" and book The Family, will be on the show on October 14 to discuss his new book C Street. Timely information since Kansans have two members of the secretive sect running for public office in Sam Brownback and Jerry Moran.
Other topics covered this season include: "The Battle for Social Security" with Nancy Altman, Chair of Board of Directors Pension Rights Center and Co-director, Social Security Works on September 2nd. Kenneth King author of Grems Gone Wild: How the Unchecked Development of Domestic Bio-Defense Threatens America will be our guest on September 16th. Representatives from the Flint Hills Human Rights Project will discuss their efforts to have sexual orientation and gender identity added to the City of Manhattan's Anti-discrimination Ordinance on September 23rd.
On September 30th, Judith Baker, Regional Director, Region 7 Office, U.S. Dept of Health and Human Services will discuss "What you need to know about the Patient Protection Affordable Care Act." Questions for this interview will be those asked at the July health care forum hosted by the Manhattan Alliance for Peace and Justice at which Baker spoke.
A complete schedule of this fall's programs is available on the Community Bridge website at: http://communitybridge.blogspot.com.