MANHATTAN, Kan. - A couple of weeks ago some friends started to ask me if I was interested in running for office again. "New election cycle, why not give it another go," they said. Several wanted someone "with new eyes" looking at how local government operates and work to make it better for everyone. I know others were disappointed when I did not run for city commission in April 2009.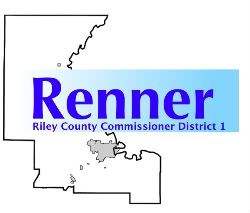 My previous experiences at running for elected office included a run for the legislature when I was 18, - that was many, many moons ago - and my 2008 bid to unseat Kathy Martin on the State Board of Education. Neither went in my favor, but both were great experiences.
So after thinking about it for a week, I walked precincts collecting the signatures I needed to file by petition in a bid to run for the Riley County Commission. I have to admit I was pleasantly surprised when everyone I talked while walking the neighborhoods expressed their support for my effort.
County Commissioners aren't a highly glorified positions, like running for Congress. It's a lot of work. But in our democracy, it really is where the work of government is carried out. Laws are passed in capitol buildings but it is at the county level that those laws become part of our culture. So for someone like myself who believes that "government" isn't synonymous with "evil," being a county commissioner can do a lot of good.
The position Riley County Commissioner, District 1, is held by a Republican who is retiring after eight years of public service. In looking at the data from my 2008 run against Kathy Martin, I carried all but three precincts in the District. This gave me some hope. Even if how people vote for the State Board of Education might be different from how they vote in a county commission race. In looking at the numbers, I got more votes than Obama in ten out of 13 precincts and more votes that Rep. Boyda in 12 precincts. The odds look good.
Riley County is expected to see unprecedented growth over the next decade with the arrival of the NBAF facility and auxiliary industries it will support. Given the tendency of Manhattan city planners to promote urban sprawl and the exportation of wealth out of the community through big-box stores, the county commission will sooner or later have to deal with such misguided policies as sprawl creeps out into the county endangering more and more prime agricultural land. Such growth could easily destroy the quality of life we enjoy in Manhattan and contribute to our ever higher cost of living.
This growth will also cause a demand for services and infrastructure like roads, water districts, access to the Internet, fire and police protection. While Riley County has done much to improve its infrastructure in the past decade, the type of growth being foreseen calls for new policies that reach across county lines and develop regional plans in response to new demands for services. First among these is developing a interurban mass transportation system that promotes more efficient use of carbon-based fuels and will eventually use clean, green energy technology. In 2000 it was estimated that some 8,000 people travel between the Manhattan area and Topeka each day. Today that number is undoubtedly higher. Providing leadership and working with our neighbors to make mass transit a reality can make a significant contribution to improving and safeguarding the local environment.
Riley County has one of the highest costs of living in the state with an median household income of $40,000 - that's $12,000 below the US average. And yet affordable housing is difficult to find. More and more, young couples, single mothers and individuals who work in Manhattan have to live outside the city to make ends meet because "affordable" housing is almost non-existent.
Using the model put forth by Governors Sebelius and Parkinson, one way local government can contribute to lowering the high cost of living is reducing inefficiency and waste by thoroughly reviewing the operating budgets of governmental agencies and departments, eliminating duplication and combining services wherever possible. This approach is also supported by the Regional Growth Plan that encourages local governments to work together to lower costs while providing the services we all need.
I am running for the Riley County Commission because I want a community in which all members are treated fairly, with respect, and benefit economically from the growth that will occur over the next decade. For this to happen, responsible public servants must step forward to safeguard the quality of life we enjoy and protect it from special interests out to maximize profits over people.
I know this thought is not too typical for modern-day politicians, but for me a properly run government is all about serving its people. As a progressive I believe that a free people, when organized into an effective groups, can make their lives and the world better with sharp concerted action. Such thought flies in the face of the regressive populist movement embodied in the Tea Party and their politics of hate and personal greed.
Oddly enough Riley County Democrats will actually have a primary on August 3. I face two other Democrats - Jay Blue and Eric Vargo. Blue and Vargo are both political novices. Blue operates a pawn shop in Manhattan and filed because he feared that there wouldn't be a Democrat on the November ballot. Vargo is new to the Manhattan community, having settled here after his discharge from the Army a few years ago.
The Republicans also have a primary. Dee McGee, former Special Services Director for Manhattan-Odgen USD and defeated 2008 challenger to Rep. Sydney Carlin (D-Manhattan) is vying for the spot on the November ballot against David L. (Dave Lewis) Guthals, former DJ/newscaster for Manhattan Broadcasting.
Readers who are interested in following the campaign can do so either on Facebook - search: "Renner for County Commissioner" and become a fan - or visit www.christopherrenner.com. The webpage isn't ready to go just yet, but should be within the next two weeks.
And, as always, contributions are most welcomed. They can be sent to: Renner for County Commissioner, Sandy Nelson, Treasurer, 1906 Bluestem, Manhattan, KS 66502.