MANHATTAN, Kan. - "A dedicated group of people are starting a new radio station that serves the public interest." Now there's a headline we get to read about everyday in the for-profit media. NOT! But that very thing is happening here.


2007 logoIn 2005 and 2007, a group of Manhattanites, community members and K-State students, attended the National Conference for Media Reform in St. Louis and Memphis sponsored by Free Press. Free Press is a national, nonpartisan, nonprofit organization working to reform the media. Free Press uses education, organizing and advocacy to promote diverse and independent media ownership, strong public media, quality journalism, and universal access to communications.
With the framework and knowledge gained at the conferences, local citizens began to question what the local Manhattan media was providing them in terms of content and diversity of opinion. What they found was a media landscape in which the major issues of the day were reduced to sound bites and celebrity trivia was pushed as meaningful content.

"The media should play a vital role in our democracy," says Jon Tveite, chair of the Manhattan Alliance for Peace and Justice. "They provide the information and ideas that people need to consider in making rational choices about what positions and candidates to support or oppose. Without good information, we are just flailing in the dark."
Even with the revolution in media provided by the Internet, the vast majority of people still get most of their news and information from radio and television. Radio of course has seen its fair share of transformations as more and more people listen to radio via their MP3 players, choosing those programs they are most interested in. Television is now experiencing similar innovations.
However, what rural communities like those in Kansas have reaped following the 1996 Telecommunications Act is a dramatic reduction in local content. Many commercial radio stations are run from corporate headquarters in large metropolitan areas that offer the same homogenized corporate-promoted music and celebrity trivia you hear whether you are in Salina, Kansas or Salina, California. Kansas' public radio stations serve such vast areas that they are able to cover local issues and concerns with only the broadest strokes at best and in general local coverage is non-existent for the vast majority of the communities they serve.
"I think consolidation has changed the media climate drastically," said Tveite. "News has become less a public trust, and more of a commodity. Even though Manhattan's a relatively small market with little local media to speak of, you can see the national trends play out in the television, radio, and print sources of news that cover Manhattan -- and it's not pretty. I get most of my news about my community by word-of-mouth."
Throw into this mix the economic crisis that has caused newspapers in our state and across the country to see their advertising-driven revenue streams dry up resulting in reductions of staff, number of pages and content. What this all has meant for the average American is that we know less and less about the issues that most affect our lives and more about Brangelina's children.
"A consolidated media assumes that all communities are alike," said Claudean McKellips an educator and member of the KONZ Steering Committee "This is absurd! Each community deserves a station that serves the interests of that particular local community."
Bill Moyers once said of Amy Goodman and Democracy Now! that if people listened to her show for a week they would learn more about what was happening in Washington, DC, and how those activities were affecting their personal lives than they would in a year of corporate news programs.
Robert McChensey, John Nichols and others have written eloquently about the role that a free and vibrant press plays in our democracy. They have pointed out that if our democracy is to succeed, we must have a press that holds those in power - be it economic, political, or ecclesiastical - accountable for their actions and defends those who have no voice.
"Media that is non-partisan and unbiased in its reporting can provide citizens with the information they need to make informed decisions about how well their government is working and whether the people elected to serve are serving their interests," said Debbie Nuss, community volunteer and member of the KONZ Fundraising Committee. "Media that is independent of corporate influence and that is not supported by special interests has the greatest chance of ensuring that the interests of every day citizens come first and foremost."
Creating an Alternative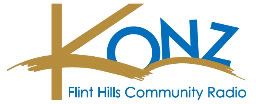 In 2007, the Federal Communications Commission (FCC) accepted new applications for non-commercial radio frequencies for the first time in 15 years. Kansas had 60 applications submitted. Of the 60 submitted, only eight were non-religious stations representing three entities: KANZA Society (High Plains Public Radio), UFM Community Learning Center in Manhattan, and Lawrence FreeNet. In total, 3,800 applications were submitted nation-wide and 2513 of those were from religious organizations, or 66% of all applications.
In October of 2008, UFM Community Learning Center, which had agreed to be the applicant for the license, and its partner organizations - the Manhattan Riley County League of Women Voters, the Riley County Senior's Services Center, Manhattan Alliance for Peace and Justice, the Flint Hills Human Rights Project and the Campaign for Nonviolence -- received word that they had been granted a construction permit for a new station to be located at 90.9 on the FM dial. The new station would serve a population of over 100,000 people in Geary, Riley, Pottawatomie and Wabaunsee counties.
Flint Hills Community Radio will be known by the call letters "KONZ" reflecting the region's connection to the Konza Prairie.
The goal of the station is to provide in-depth reporting on issues and concerns that utilize citizen journalists who are trained in investigative reporting techniques. This will allow the station to provide multiple forums for discussion while expanding the musical and cultural experiences of its listeners.
"Aside from the morning news program on the local commercial AM station and one weekly show on the college station, there is no other good sources on the dial for local news and information," said Tveite. "Aside from sports coverage, the vast majority of programming is nationally syndicated, and it tends to be very one-sided, politically. The Flint Hills region deserves more variety in terms of political views and cultural perspectives - that is a media environment that reflects the actual diversity of its population."
But the Steering Committee didn't stop just at wanting to provide more local news and information; they also felt that the station needed to challenge intellectual and cultural assumptions by broadening the meaning of "community,"
"Manhattan is a diverse community," said McKellips. "Everyone gets a voice in community radio, including marginalized groups who traditionally have not had a voice on mainstream radio. As an educator, I am particularly interested in seeing young people learn citizen journalism skills and have a voice in the local community."
In the Internet age, community often takes on new meanings. While the focus of the station will be its service area, with the advancement of streaming technologies, the station will serve more than just the traditional broadcast coverage. Streaming and podcasts will make the programming for the station available to anyone in the state of Kansas or across the US.
Making the Station a Reality: How You Can Help
The station will be housed in the third floor of the UFM building - a former fraternity house turned community learning center. The Steering Committee has drawn up plans for adapting the former bedrooms into offices and studios. They have also developed a plan that will allow people who can't climb the stairs to host shows via a satellite studio on the ground floor.
"Starting a non-profit community radio station is no easy feat, particularly in the current economic climate," said Nuss. "UFM has a 30-year history of successful program development and sustainability. Our community is fortunate that UFM was willing to lend its expertise and support to the development of KONZ."
The biggest challenge now facing the Steering Committee in their effort to get KONZ on the air is financial.
In the fall of 2009, the National Telecommunications and Information Administration awarded KONZ a Public Telecommunications Facilities Program (PTFP) grant. This grant provides funding for the purchase of the hardware needed for the station to begin broadcasting. The grant requires a 25% match totaling $73,000, but gives the station three federal dollars for each dollar of the match. However fund raising has been slower than expected.
Whether we want to admit it or not, Kansas is always a little behind the rest of the nation. When it comes to our economy, financial crises hit us later and we take longer to recover that the folks out on the coasts. How much this plays into fund raising is hard to determine. However, KONZ is now in the sixth month of the nine-month PTFP grant period. Still needing $30,000 for the match, they could lose the PTFP grant if the remainder isn't raised by the end of June.
"It's the old "chicken and the egg" syndrome," said Nuss. "Which comes first; the money or KONZ? KONZ needs money to match federal dollars that would allow for the purchase of the equipment needed to get the station on the air. But, in this tight economy people are not as willing to let go of their limited expendable funds to support what they view as a nice concept."
"People seem to be supportive of the idea in theory, but times are hard, financially, and many are reluctant to give support to a theoretical idea," said Tveite. "We need to find the people who believe in the community and want to see a radio station that reflects a truer range of interests, cultures, and views."
KONZ - Flint Hills Community Radio has a webpage, konzfm.org, that outlines the goals and objectives the station is trying to achieve and also provides an opportunity for people to make electronic donations to its construction efforts.
"People can help by becoming a member of KONZ, by donating to help us raise the match needed for the federal grant, by telling their friends to donate, by becoming a citizen journalist, and by believing that community radio can make a difference in our community," said Nuss.