MANHATTAN, Kan. - Over 200 people demonstrated their support for lesbian, gay, bisexual and transgender (LGBT) equality in Manhattan and Riley County on Saturday in first Pride march and rally the community has seen. Marchers represented individual LGBTs, allies, various community and K-State organizations and two of Manhattan's religious congregations: the Unitarian Universalism Fellowship and First Congregation - United Church of Christ.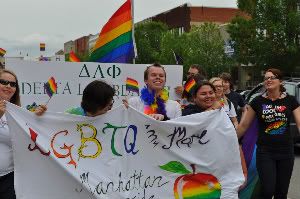 Lead marchersMarching down Poyntz Avenue with a police escort the participants were met by a smattering of supporters along the route that took them west on Poyntz, then north on 11th Street and down Moro through Aggieville, ending at Triangle Park.
Jonathan Mertz, Chair of Flint Hills Human Rights Project, said: "I was driving the pickup at the end of the parade. When I turned onto to Poyntz to follow the walkers I had this view of a mass of people with signs and rainbow flags walking up the street and more people were running to join the crowd. It took my breath away."
The idea for the march originated with Dusty Garner, founded of the progress fraternity Delta Lambda Phi at K-State, following his participation in the National Equality March that occurred last October in Washington, DC. The K-State student group LGBTQ and More took the idea and ran with it, electing Lukus Ebert and Hannah Mattocks as co-chairs in charge of planning the event. Together they spent countless hours preparing for Saturday's highly successful event.
Taking the stage to welcome the marchers to the rally were Ebert, Mattocks and LGBTQ and More President Samuel Brinton.
"I feel the community came together wonderfully," said Brinton. "I think the amazing turnout we had could only have come with the amazing cooperation our community groups had. Two hundred participants for the first event is something each and every member of the myriad of organizations can truly be proud of."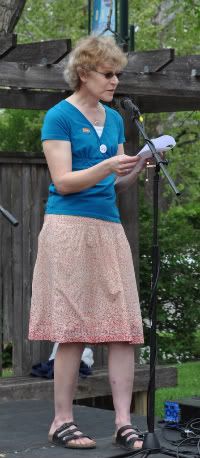 Alley StoughtonAlley Stoughton, a trans woman, opened her comments to the crowd by saying: "The discourse surrounding LGBT rights in this country is full of boxes and binaries: gay/straight, trans/non-trans, male/female. The dominant strategy for advancing LGBT rights has been to make everyone feel safe in their own boxes."
She then went on to discuss how these boxes continued to harm the effort of bringing about equality. "I used to think that it was only the straight world that put people in boxes, that policed brand boundaries. But the LGBT community is at least as vigilant at keeping people in their boxes."
"And the boxes and branding don't just restrict people's freedom of self expression. By exaggerating the differences between people, the branding system makes it more likely that some will lash out against people in other boxes. Have you seen any of the recent TV commercials for men that are dripping with anger and resentment toward women, that might as well say: 'go-ahead and hurt her'?"
"In my daydreams, I imagine prominent politicians or other public figures who own their bisexuality or complex genders. Wouldn't 'Sam Brokeback' make a great headline? For now, public figures wrap themselves in heteronormativity, and the realization of my daydreams seems about as likely as global cooling."
The keynote speaker for the rally, Tami Albin had to be replaced at the last minute due to ill health. Shireen Roshanravan, a professor in Women's Studies at K-State stepped in as the replacement. She first lead the crowd in chants and then read "About the Tongue" by Tatiana de la Tierra in her book: For the Hard Ones: A Lesbian Phenomenology.

Shireen Roshanravan"We say yes to desire, to passion," said Roshonaravan. "We say yes to family, love, peace and justice. We may honor all of those to find the pride in our daily lives."
Roshanravan called on the LGBTs to see their struggle as part of a larger effort for liberation and human rights that include immigrants, women, and the developing world. "Coming out and living out loud means living fearlessly, not just in relation to our sexuality but in standing up for social justice in all arenas," she said.
Openly gay singers Tom Goss and Jeremiah Clark opened and closed the rally. Each preformed a short set of their music as a prelude to their concert scheduled for later that evening.
Goss, who had preformed a year ago to a very small audience in Manhattan said: " I didn't know what to expect, but I am very happy to see so many people out. The energy is really positive."
"It is absolutely above expectations" said co-chair Hannah Mattocks when asked about her reactions to the turn out. "We got possibly three times the number of people in the march than what we expected. Hopefully this will create a way of a movement here in Manhattan towards a more progressive community and a more progressive K-State."
Co-chair Lukas Ebert said the greatest obstacles in planning the event "was getting a police escort and losing our first keynote speaker the day before the march. Then the stage was late getting set up but it was amazing to see so many people showing up to this event."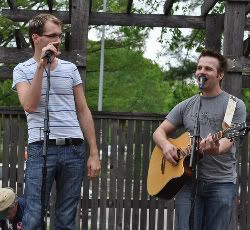 Musicians Clark and Goss"I thought the turnout was well over the threshold needed for the event to be successful. I found participating in the march and rally very exciting, and think that the foundation has been laid for the march and rally to have an even bigger turnout next year," said Stoughton.
For older participants in the audience, the march was the culmination of work began in the '90s by the Flint Hills Alliance and continued in the 2000s by the Flint Hills Human Rights Project (FHHRP) in its efforts to defeat the Kansas Marriage Amendment and their on-going efforts to add sexual orientation and gender identity to the City of Manhattan's anti-discrimination ordinance.
In his address to the crowd, Jonathan Metz, Chair of FHHRP, retold the stories of LGBTs and their experiences of discrimination in housing, employment and public accommodations. Just last fall, a gay couple was force out of the apartment they had rented by their landlord when their orientation was learned. Graduate students at K-State, they went on to tell about their experience during public comments at a City Commission meeting earlier this winter. Conservative Mayor Bob Strawn is on record as saying no need exists to added sexual orientation to the City's ordinance because "discrimination doesn't happen in Manhattan against LGBT people." Instead he and the other commissioners were shown that discrimination is alive and well in the "Little Apple."
The discussion about adding sexual orientation and gender identity to the City's antidiscrimination ordinance began in 2005 when FHHRP took the issue up with the City's Human Rights Commission. Over the next nine months, the commission discussed the issue at three of their quarterly meetings. The last turned into a hate fest when an incompetent chair allowed the process to be hijacked by the radical religious right. The end result was a tie vote meaning that the proposal was passed to the City Commission without comment. Then it languished as conservatives on the Commission refused to take up the issue. Follow last April's city elections, three moderates now make up the majority of the Commission, all three of whom are on record as supporting adding at least "sexual orientation" to the ordinance.

Rally participants"We have actually had some discussion with people on the City Commission and I have very good feelings about it. I think this year it is going to happen," said Mertz.
"I think that a public and proud LGBT presence in a locality is one of the necessary conditions in order for the local government to enact pro-LGBT legislation. Having a successful Pride March and Rally will help in the push to add sexual orientation and gender identity to Manhattan's anti-discrimination ordinance," said Stoughton.
"I believe there is a chance that the City Commission will approve adding sexual orientation to the ordinance in the near future," said Stoughton. "But to do that, they'll have to withstand a firestorm of criticism from the religious right. It will be ugly, and it's certainly possible that one or more of the positively disposed Commissioners will lack the nerve to finish the job."
She concluded, "I'm more skeptical about the chances of adding gender identity to the ordinance in the near future. Unless the City Commissioners are very prepared to deal with the inevitable panic about men putting on dresses so as to assault women and girls in public restrooms - which is a total red-herring, but derailed the most recent attempt in Lawrence -- an effort to add gender identity to the ordinance will be doomed. And the controversy generated by the attempt might actually make things worse for trans people in Manhattan, as we are currently somewhat under the political radar. So my message to the Commissioners would be to start with sexual orientation only, unless they are fully prepared for a very nasty fight."
Looking to the future, all parties believe the Pride march and rally needs to become an annual event.
"I believe Manhattan should have an annually pride and make it bigger and better every year. I don't see why next year we can't double this year's number." Said Elbert.
"This pride celebration will definitely be annual," said Brinton. "We have begun taking laborious notes on what worked and didn't work this year and next year will be just as amazing if not better. Since I was aiming for 50 and got 200 this year I will aim for 400 next year. That will be the last event I run at K-State and I intend for it to be a HUGE event each and every year from now on."