MANHATTAN, Kan. - Lesbian, gay, bisexual and transgender (LGBT) people and their allies will make history as they hold the first Pride March ever in Manhattan on Saturday 24 April. The march will start at 2:00 pm in front of the Riley County Courthouse and will proceed down Poyntz Avenue to 11th Street, then north on 11th to Moro, through Aggieville, ending in Triangle Park with a rally that goes until 4:30 pm.
Along with speeches and entertainment, the rally will feature openly gay musician Tom Goss. Goss will also be in concert with Jeremiah Clark later on the 24th beginning at 9:00 pm at Mel's Tavern in downtown Manhattan.
Goss' story reflects many of the same milestones, struggles, and rebirths that LGBT Kansans face. Born in Kenosha, Wisconsin, he spent his childhood in the gym with his gymnast parents and brothers. In junior high school he switched to wresting--a better outlet for some serious teenage aggression--and stuck with it through college. Majoring in education at the University of Central Missouri, Goss became familiar with Kansas because of traveling to Hays for wrestling competitions.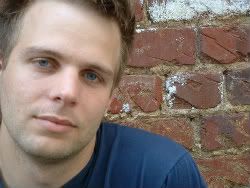 Tom GossIn 2004 he decided to become a Roman Catholic priest. In his own words he simply says, "it didn't go as planned" and, disillusioned by the institution in which he had placed his faith, he chose to abandon religious training--but not his quest.
Back in secular life, Goss sought new ways to work toward social justice, the issue that had led him to seek out religious life in the first place. He took a job running a breakfast program for the homeless and began to build a life with his partner.
Goss channels his message of love, hope and reconciliation through his music. He offers up dynamic acoustic rock featuring muscular guitar, hooky melodies and a uniquely powerful voice.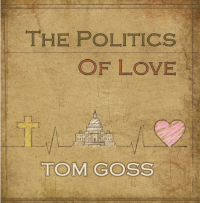 The Politics of Love EPGoss recently unveiled a curriculum he developed entitled The Politics of Love. The curriculum, featured on its own website, provides people interested in the topic of marriage equality with everything they need to lead their own workshops or just talk with friends about the topic.
Following Goss's concert at 11:00 pm the evening will continue as one of London's most popular DJs, Miss Cupcake. Originally from Manhattan, Miss Cupcake is the resident DJ for Gay Girlz at Heaven, London's largest club. She has played at London Pride, Brighton Pride, Soho Pride and in clubs all over Europe. By luck she is in Manhattan this weekend.
In 2004 Miss Cupcake left the 9 - 5 life of government bureaucrat - among her many accomplishments was doing Internet technology at the White House for the Clinton Administration - to devote herself full time to working as a DJ.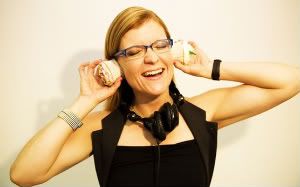 Miss Cupcake"Music has been around as long as human-kind for a reason - the world moves to a natural rhythm that is beautifully emotional. To totally lose yourself in a song and/or dance is one of the most amazing and euphoric experiences a person can have," she said.
Miss Cupcake will spin electronica, House, and other music genres until closing time, 2:00 am, at Mel's Taven.
Pride marches are generally held across the county each June to remember the Stonewall Riots that mark the beginning of the modern LGBT liberation movement. The Stonewall Riots began in the early morning hours of June 28, 1969, when the NYPD launched a routine raid on the Stonewall Inn, a tavern in Greenwich Village that was a know hangout for gays and lesbians.
By the time the riots finally ended several nights later, thousands of New Yorkers had protested and the Tactical Patrol Force beat many of those. The TPF was created to deal with the anti-war protest and their action against the Stonewall Riots was particularly brutal. David Carter in Stonewall: The Riots that Sparked the Gay Revolution writes: "7th Avenue from Christopher Street to West 10th looked like a battlefield in Vietnam. Young people were lying on the sidewalk, bleeding from the head, face, mouth, and even the eyes. Others were nursing bruised and often bleeding arms, legs, backs and necks."
The brutal force used could not stop what had been released, as the New York Daily News wrote: "Without warning, Queer Power exploded with the fury on a gay atomic bomb."
Today the advances made in civil rights legislation and changing cultural norms are in part due to the Stonewall Riots and the foundation work carried out by people like Harry Hay and Dell Martin.
Saturday's events in Manhattan draw on this tradition of people demanding their basic human rights at a moment when new interest is being shown in getting the City of Manhattan to include sexual orientation and gender identity in its anti-discrimination ordinance.