LEAVENWORTH, Kan. - For over twenty years the Kansas Sample Festival, organized by the Inman-based Kansas Sampler Foundation, has provided attendees the possibility of being immersed in Kansas culture. That tradition continues May 1st and 2nd in Leavenworth's Ray Miller Park, 4201 South 4th Street, as vendors from across the gather for the 2010 Kansas Sample Festival.
The opening ceremony for the Festival takes place on Saturday, May 1st, at 9:00 a.m. This ceremony provides an opportunity for Kansas communities to show their stuff and prick the interest of those in attendance about the possibilities that lay just beyond the entrances to the various exhibition tents.
The tents open Saturday at 10:00 a.m. and close at 5:00 p.m. On Sunday the exhibitions open at 10:00 and close at 4:00 p.m. Admission fee is $5.00 for adults and $3.00 for child aged 7 - 14. Weekend passes are also available at $8.00 for adults and $4.00 for children.
The 2010 Festival is breaking all previous records with over 320 exhibitor registrations received to date representing over 150 Kansas communities. Exhibitors include Kansas municipalities, attractions, entrepreneurs, and entertainers. These will be spread throughout the park in colorful tents on a wide open grassy field shaded by old trees in Ray Miller Park.
Exhibitors include: Krehbiel's Meat Market and Deli from Hutchinson and the unique Red Truck Novelties that will sell hot buttered popcorn from a 1929 Ford Model AA truck. T-Town Smokin BBQ from Topeka will serve up hardwood smoke barbecue and Becky's Bierocks from St.Francis will provide an opportunity to taste her popular bierocks. In all, eighteen food vendors each featuring uniquely Kansas foods will feed the audience.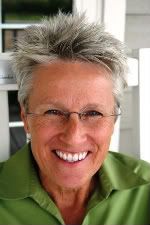 Marci PennerFestival overseer WenDee LaPlant says, "It's all Kansas from the pig wings in the Pachta Pork food booth to Marci Penner's questions on The Stump." Penner is the Executive Director of the Kansas Sample Foundation. The mission of the Foundation is to "preserve, sustain, and grow rural culture by educating Kansans about Kansas and by networking and supporting rural communities."
New to the event this year are the Kansas Author's Tent and the Kansas Artists Tent where you can personally meet local authors, artisans and buy their books and artwork. In addition, there are new "group" tents including Pottawatomie County, Leavenworth County and Freedom's Frontier National Heritage Area, which will include children's activities and entertainment.
Also new to this year's festival is a wine and beer garden featuring several Kansas based wineries and microbreweries. Yes, visitors will be able to taste the various Kansas elixirs and determine for themselves their merits.
Visitors can see and buy a huge variety of Kansas-made products at the popular Kansas Mercantile tent, learn how soap is made from goats milk, take stagecoach rides and enjoy entertainment from four stages.
The festival is a kick-off of the Kansas explorer tourism season.
For more information go to www.kansassamplerfestival.com or contact local host contact Keyta Kelly, 913.417.7575 or kssamplerfestlvco@sunflower.com.
Of related interest, on 22 April the Kansas Sample Foundation announced the latest in their 8 Wonders series. The series is designed to help the world get to know Kansas and to encourage the public to explore Kansas.  This year's wonders refer to Kansas history.
The eight rural culture elements used by the Foundation to help a town assess itself are each showcased in their own 8 Wonders contest.  Previously, the top 8 Wonders have been decided in Architecture, Art, Commerce, Cuisine, Customs, and Geography.  After History, the last contest will feature People.  The overall 8 Wonders of Kansas were announced on Kansas Day 2008.  All results can be seen at www.8wonders.org.
Over 170 historical sites were nominated by Kansans statewide. The twenty-four finalists include:

1930s Dust Bowl to Gas Exploration, Historic Adobe Museum, Ulysses
Black Jack Battlefield, Baldwin City
Boot Hill Museum/Historic Dodge City
Brown v. Board of Education National Historic Site, Topeka
Cherokee Strip Land Rush Museum, Arkansas City
Constitution Hall State Historic Site, Lecompton
Council Grove, Santa Fe Trail National Historic Landmark
El Cuartelejo Pueblo Ruins, Scott County
Fort Hays State Historic, Hays
Fort Larned National Historic Site, Pawnee County
Fort Scott National Historic Site, Fort Scott
Historic Fort Leavenworth, Leavenworth
Historic Fort Riley, Junction City
Home on the Range Cabin, Smith County
Kansas Museum of History,  Topeka
Kanza Tribe and Lewis & Clark's Independence Creek, Atchison
Lead and zinc mining, Baxter Springs and Galena museums
Mahaffie Stagecoach Stop and Farm Historic Site, Olathe
Mid-America Air Museum, Liberal
National Orphan Train Complex, Concordia
Nicodemus National Historic Site, Nicodemus
Osage Mission Museum, St. Paul
Pawnee Indian Museum State Historic Site, Republic County
Smoky Valley Roller Mill, Lindsborg
Kansans may now vote for their top 8 choices. If the reader does not know the story about the places nominated, the 8 Wonders website provides background information on the place/event and its roll in Kansas history by clicking on the picture.  Better yet, go visit before you vote!  One e-mail address may be used three times to vote.  The Foundation really appreciates online votes.