TOPEKA, Kan. - On March 16, a crowd estimated to be 1,000 parents, teachers and students rallied at the east steps of Capitol in Topeka to protest potential future cuts in education funding. Demanding that schools get "what's right, not what's left," and "SOS - save our schools," the crowd's chants echoed in down the halls of the Capitol.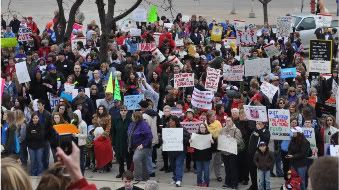 AYF rally particpants
Following the Montoy lawsuit in 2005, funding levels substantially improved educational results and programs across the state. Kansas children were learning more, were achieving high academic standards and graduating from high school ready to contribute to our state.
Still the funding never reached the levels ascribed in the Kansas Legislature's own cost study (2001 Augenblick and Myers). This study found that funding needed for Kansas schools - now nine years ago - ranged from $5,811 per pupil (large districts) to $8,541 per pupil (small districts); with additional costs for: special education: $7,400-$12,000 per pupil; at-risk: $1,900-$2,600 per pupil; English Language Learner (ELL): $1,200 to $6,000 per pupil. In order to be a "Successful School," the average base cost of $4,547 per pupil was proposed.
With the cuts Gov. Parkinson had to put in place when the legislature failed to adequately address the economic crisis in 2009, schools are now at funding levels prior to the 2005 Supreme Court's intervention. In fact they have been pushed back to 1996 levels. If that wasn't bad enough, the schools are serving over 11,000 additional students, and the conservatives in the legislature show no sign of doing what is right for Kansas children.
Tuesday's rally title, Adequate Yearly Funding, was a play on "adequate yearly progress" required by No Child Left Behind. It called for protecting Kansas' future and our most valuable asset...the Kansas child. Organized by two teachers, Noah and Christie Slay, the crowd included represents schools from Garden City to Lenexa, Atchison to Colby. It demonstrated that Kansans value our schools and do not want the failed state of affairs Representatives Yoder and O'Neal want to give us.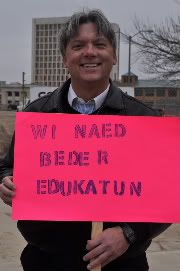 AYF particpantPrior to the commencement of speakers, students from USD 383 Manhattan-Odgen told the crowd that the school board was going to cut music from the elementary curriculum in order to save money (along with cutting other positions and programs as well). The students were able to articulate why music is important and what will happen to their nationally recognized music program as a result of the proposed cut. Maybe such articulate students is just the reason the conservatives want to cut education again.
Following the general introduction by Noah Slay, a third grade teacher, Sen. Anthony Hensley called the crowd to order with an energy-filled speech. "Investing in public education is the right thing to do," he began. "In our state's budget for FY 2010 we spend on average $37 per day, per student, in our K-12 education system. Contrast that with the fact that on average we spend almost $70 to house, feed, clothe and often education the inmates in the Lansing penitentiary. What question is: Where do you want to spend your money?"
Gov. Parkinson called the situation a "historic battle" and called marchers to contact legislators to raise taxes to protect schools from further cuts. Saying "we can do this with just a 1-cent sales tax," he once again proposed increasing sales tax and tobacco tax to close an expected $467 million shortfall for next fiscal year.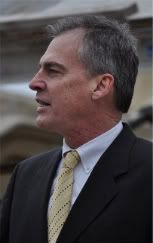 Gov. Parkinson"Now the economists, the so called economists from the right, will tell you that if we raise the sales tax just one cent, we will tear down our economy," he said. Citing the City of Wichita, Parkinson pointed out that a one-cent sales tax was added to build an arena. When he asks people in Wichita about the tax, no one was able to tell him when it was add or when it went off. "If we can raise taxes one cent to build an arena, surely we can raise taxes one cent to help every school child in this state."
Other speakers included two articulate students from Shawnee Heights, senior Alec Weaver and sophomore Alec Elkison, 2009 Kansas Teacher of the Year Cindy Coachman, Rep. Ann Mah, Rep. Paul Davis, KNEA President Dr. Blake West along with organizers Noah and Christie Slay.

Sen. Tom HollandTom Holland stated that his motivation for public service was our schools. "Kansas schools are facing serious problems and no one know this more than our students, parents, teachers and administrators," he said. "We are trying to teach tomorrow's leaders with yesterday's resources. That just won't cut it!"
Holland gave examples of class size doubling and that schools have been closed because of the funding crisis. "We must rededicate ourselves to investing in our teachers and schools so that every Kansas child, our future leaders will have the very best education possible."
Kansans - parents, grandparents, students, teachers, and folks who don't have children in school - across the state must now take up the fight by contact their legislators and demand they do what is right: raise taxes and fund education! We cannot afford to lose an entire generation because some conservatives want to wreck education as they have the political system.
The complete speeches from the rally are available as a podcast here below, on the KONZ website at http://www.konzfm.org/podcasts/, as well as the Community Bridge website (scroll down past the video feeds) and I-Tunes feed.