MANHATTAN, Kan. - What now seems like a lifetime ago, I taught English as a Foreign Language in Naples, Italy. A young lady came into my life for the academic year 87-88. She was the younger sister of a friend, and the last child of huge German Catholic family. She was a student at the University of Kansas and had come to Naples to study the great 20th Century Neapolitan playwright, Eduardo De Fillippo.
Her spirit of adventure and wonderment amazed me.
Her talents for acquiring language, overcoming obstacles, and seeing possibilities impressed me.
Now 22 years later she still does.
Lisa Engelken grew up on a farm setting high on a glaciated hill east of Corning, in Nemeha County. She graduated from Centralia High School and the University of Kansas (BA and MA). She speaks better Italian than most Italians and has a gift for music that send chills down my spine. On Kansas Day she release her second jazz album and Kansans need to take note of this gifted daughter.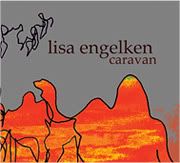 Caravan
features 10 of Engelken's fresh arrangements that breathe new life into jazz standards by Ellington, Porter, and Carmichael and boldly transform contemporary tunes such as "White Wedding" (Billy Idol) and "Trouble Child" (Joni Mitchell) into the jazz idiom. Caravan
was arranged and produced by Engelken, an explosive and soulful singer with "smoky, Mata Hari vocals" (Village Voice) and an "entrancing, daunting physical presence" (P.O.V. Magazine).
Caravan
also includes "From the Earth", a new lyric version of Freddie Hubbard's jazz-funk classic "Red Clay." Engelken is grateful to have received Hubbard's personal review & blessing to record her new version before he passed away in December 2008.
I found "White Wedding" to be especially enchanting. The song is emotionally laden with memories of the 1982 East Coast punk-rock world I once inhabited, when I wore mental spikes and used tubes of Tenax in my hair. To hear it reformatted into the jazz idiom was at first unsettling. "That isn't how it should be," I thought. But Engelken's voice and outstanding instrumental music transforms Billy Idol's aggressiveness into a dynamic and passionate energy that keeps the listener wanting to hear it again and again.
Engelken describes Caravan
as "10 snapshots of love: each capturing a unique phase of movement through that journey." The album demonstrates Engelken's insistence that the song's story be conveyed not only through the lyric, but also through harmony and arrangement.
Eric Smith, BeyondChron.org, writes:


Caravan, the title cut, is indeed a revamp of the harmonies and arrangements of Debussy and the British alt-pop band Radiohead, of all people. Only 'Lisa E' could conspire to combine those two influences so effectively...Add singer, composer and producer Lisa Engelken to that pantheon of great [jazz] artists. Caravan will stand the test of time and is a harbinger of more great music to come."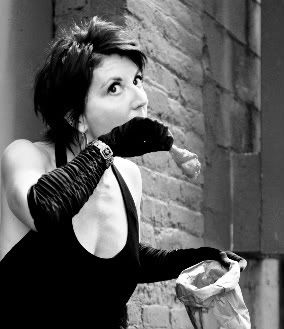 Lisa EngelkenEngleken captivated a capacity crowd at the San Jose Jazz Festival with jazz greats like Frank Martin, who has played with Sting and Al Jarreau, as well as up-and-comer's like trumpeter Mike Olmos, who plays for Etta James, by her side.
Engelken now lives in San Francisco. She arrived in the Bay Area after spending several years on the East Coast. A seasoned performer, she has appeared at South by Southwest (SXSW) in Austin, North By Northeast (NXNE) in Toronto, New York New Music Festival and the Philadelphia Music Conference. For several years she was the lead singer for the jazz-rock sextet The Zimmermans - a band she co-founded with Jonathan Spottiswoode. She also co-founded & fronted the jazz/lounge quintet Black Olive, which resulted in her releasing the jazz vocal album Cosmopolitan. During this time, Engleken was also commuting to Birmingham, AL to nurture her alter-ego and front the outrageous theatrical pop-rock band the Sugar La-Las.
Engelken will be my guest on the April 1st edition of Community Bridge. Caravan
is available through iTunes, cdbaby.com, or at Amazon.com
.