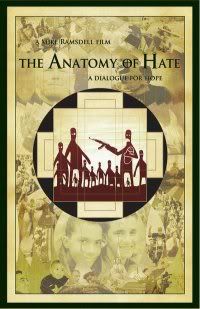 MANHATTAN, Kan. - For its March installation, Manhattan's Monthly Film Series presents Mike Ramsdell's The Anatomy of Hate; A Dialogue to Hope on Tuesday 16 March (NB: date change). Winner of the Best Political Documentary at the Philadelphia Independent Film Festival, it was also shown at the Carter Center as part of Atlanta's 2009 Docufest Independent Film Festival where it won the Audience Choice Award. The film reveals the shared narratives found in individual and collective ideologies of hate, and how we as a species, can overcome them.
For six years, Ramsdell worked with unprecedented access to some of the most venomous ideologies and violent conflicts of our time including the White Supremacist movement, Fred Phelps' brand of Christian fundamentalism as an anti-gay platform, Muslim Extremism, the Palestinian Intifada, Israeli Settlers and Soldiers, and US Forces in Iraq.
By juxtaposing this vérité footage with interviews from leading sociological, psychological, and neurological experts, and interspersing stories of redemption told by former "combatants," the film weaves a tapestry that reveals both the emotional and biological mechanisms which make all of us susceptible to acts and ideologies of hate, and demonstrates how these very same traits make us equally capable of overcoming them.
"What I found was, for me, life changing," stated Ramsdell. "There was no boogieman, no devil, nor any single person or group of evil at the center of all this violence, war, and hate. Instead I found a planet full of creatures doing their best to fill the void of existence with limited psychological tools, and emotional shortcomings - myself included. And instead of embracing these shortcomings and using them as empathetic links to our fellow men, I discovered that our psyche turns them into mythological monsters that we can project onto others, declaring those 'others' as inferior, evil, or deserving of death."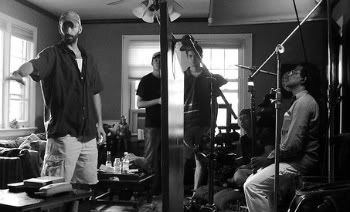 Mike Ramsdell on the set of Anatomy of HateRamsdell had only recently finished film school when the attacks of 9/11 threw America's sense of security upside down. A native of Michigan, he grappled with the horror of what happened to the country that day just as he paid attention to people's reactions. When he heard President Bush's declaration of war on terrorism, he thought to himself: "A lot of people are going to die."
Henry Richards of the Ernest Becker Foundation writes: "The film does not spare us the brutal facts and images of violence and hate, from the holocausts in Europe and Rwanda to lynchings and gay bashing in America. But this is not the pornography of war and hate. The viewer's need for a safe distance to consider these nightmare realities and the hunger for hope and meaning that they engender are met with, in exquisite timing, by the authoritative voices and surprisingly warm presence of scholars and scientists such as philosopher Sam Keen, and social psychologist Sheldon Solomon, who show us that there is a possible escape from the dismal trajectory of human history."
"It's a film that challenges, informs, and inspires. An invaluable tool for anyone who believes that the path to peace is through a deeper understanding of our common humanity", said Michael Bochenek, Amnesty International, Director of Policy.
Anatomy of Hate will be shown on 9 March 16 March at 6:30 pm, Manhattan Public Library Auditorium.
Its run time is 86 minutes. It is released by Underhood Productions. For more information, visit the film's website at anatomyofhate.com
The Monthly Film Series strives to bring films to Manhattan which would not otherwise be seen in commercial venues that inform the public debate on a broad array of issues including human rights, the environment, economic justice, peace, and media reform.
The series is sponsored by the Manhattan Alliance for Peace and Justice with the support of the Manhattan/Riley County League of Women Voters, Movies on the Grass, area locovores and through donations from generous individuals like yourself.