SALINA, Kan. - The RNC was able to draw a crowd of over 300 people to their counter Palin event on Friday, February 5th at the Salina Country Club. With special guest appearances from "Oprah," "Dick Cheney" and "Sarah" herself to soften up the crowd before hand, the evening's keynote speaker, journalist George Pyle, was able to walk off with the stunning coup d'état of the tea baggers and their leading lady.

Janice Norlin, Yvonne Gibbons and Kathryne Perney check in guests
When the Salina Chamber of Commerce announce they had signed on to bring Sarah Palin to speak at their annual meeting, some in Salina were not please. One might say they were down right upset.
But rather than protesting the Chamber of Commerce event, a group of "instigators," including Gene and Donna Sandberg, Janice and David Norlin, Yvonne Gibbons, Abner Perney, and others began meeting to plan a more hopeful, more progressive alternative to the Chamber's delusional choice in speakers.
The "instigators" found great solace in the following words:
We have the chance today to do more than ever before in our history to make life better in America--to ensure better education, better health, better housing, better transportation, a cleaner environment--to restore respect for law, to make our communities more livable--and to insure the God-given right of every American to full and equal opportunity.

Because the range of our needs is so great--because the reach of our opportunities is so great--let us be bold in our determination to meet those needs in new ways.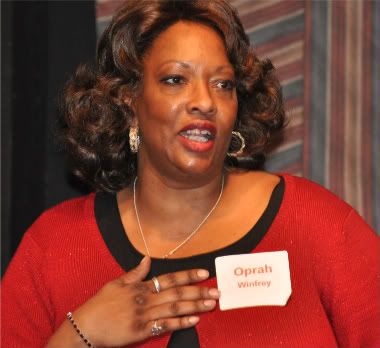 Salina's "Oprah"Now for the U.S. history-quiz, who said the words above? The answer will be revealed later in this story.
When the Salina Journal published a story about the alternative event was going to take place at Martinelli's in downtown Salina, the instigators suddenly found themselves flooded with reservations. "In a manner of hours we have more reservations than seats" said David Norlin.
Thus began a search for a larger facility and eventually the Salina Country Club. The irony of Sarah (anti-government-Palin) speaking at a tax-payer funded public facility while the counter event was held at the local country club did not go unnoticed by anyone.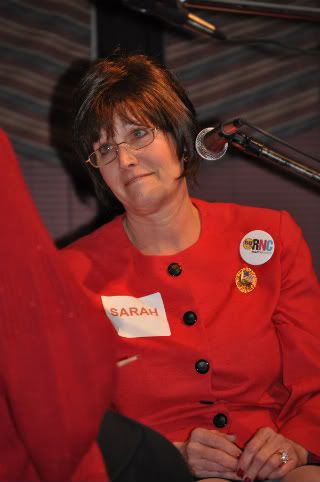 "Sarah Palin" dumbfounded by Oprah's questionYvonne Gibbons is credited with coming up with the RNC acronym - "Reality Not Celebrity" that provided an opportunity for satire and entertainment all evening long. Salina's "Oprah" interviewed "Sarah" live for the audience in which "Sarah" provided show-stopping answers to the most simple of questions.
A high point of the interview was when "Dick Cheney" stopped by to share a few thoughts about the direction of the country since he left office.
Also in the crowd were the party-crashing Salahies who can come in from Washington, just for the evening. This time however they had an "official invitation" which they showed to everyone who inquired about the validity of their presence at the event.
The keynote for the evening was delivered by George Pyle, editorial writer at The Buffalo News.
Pyle grew up in Hutchinson and graduated magna cum laude from Wichita State University with a degree in journalism. He worked at the Garden City Telegram, the Ottawa Herald, the Chanute Tribune, the Olathe Daily News and the Salina Journal where he offered a steady diet of excellent, trenchant analysis to readers for close to a decade.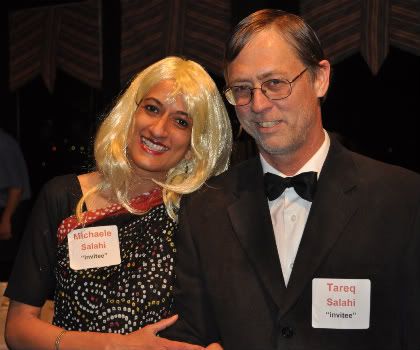 Party-crashing SalahiesWhile in Kansas, he participated in PBS fundraisers and appeared on Kansas Week, analyzing Kansas public affairs. He was featured as an expert on Kansas life and politics in the Peabody and Emmy-award-winning PBS documentary on Bob Dole and Bill Clinton. He was a co-host of Salina's radio show Friendly Fire for 5 years.
Pyle was a finalist for the Pulitzer Prize for Editorial Writing in 1998. He is the author of Raising Less Corn, More Hell: Why Our Economy, Ecology and Security Demand the Preservation of the Independent Farm
, in 2005. He was Director of the Land Institute's Prairie Writer's Circle from 2001 to 2002.
His complete speech is posted separately here on the Kansas Free Press. David Norlin comment as he introduced Pyle "buckle your seat belts. You are about to witness a high-wire act of the best celebrity-denying, hi-def-defying, not-a-bit-of-lying speechifying you've heard in a long time" was something of an understatement.
Pyle's speech is at the heart of what the progressive community in Kansas and across the U.S. needs to articulate everyday to the over-simplistic, anti-democratic rhetoric of the Right. Take time to read it and share it with others.
Now for the answer to the U.S. history question above. The eloquent words above, that sum up pretty well the spot in the road we have arrived at as a nation, were said some 40 years ago by none other than Richard M. Nixon. Talk about a little mental dissonance.
Pretty much sums up the reality we live in, doesn't it?