MCDOWELL CREEK, Kan. - Artist Betsy Roe was hard at work on Sunday--lying in the sunwarmed grass at Bird Runner Wildlife Refuge, a native prairie preserve in the heart of the Flint Hills. "I felt daunted, this project seemed so big," she says. "So I lay down in the grass, and the word 'center' came to mind. I just lay there and felt the warmth. I thought about 'center,' 'centering,' 'centered'--all the different meanings."

Betsy RoeRoe was in the middle of one of the most difficult parts of the artistic process--acknowledging obstacles, awaiting guidance, inviting inspiration. Her openness paid off: her contemplation of "centering" allowed her to imagine a design not only taking shape but taking root in that particular location. With renewed zest, she went back to pounding in stakes and laying out string, marking dimensions for an outdoor work of art to honor the memory of Jan Garton, the conservationist who saved Cheyenne Bottoms and who passed away Nov. 9, 2009.
Roe has been commissioned to do this "installation" on a three-acre brome field which is being restored to native prairie--also in honor of Garton.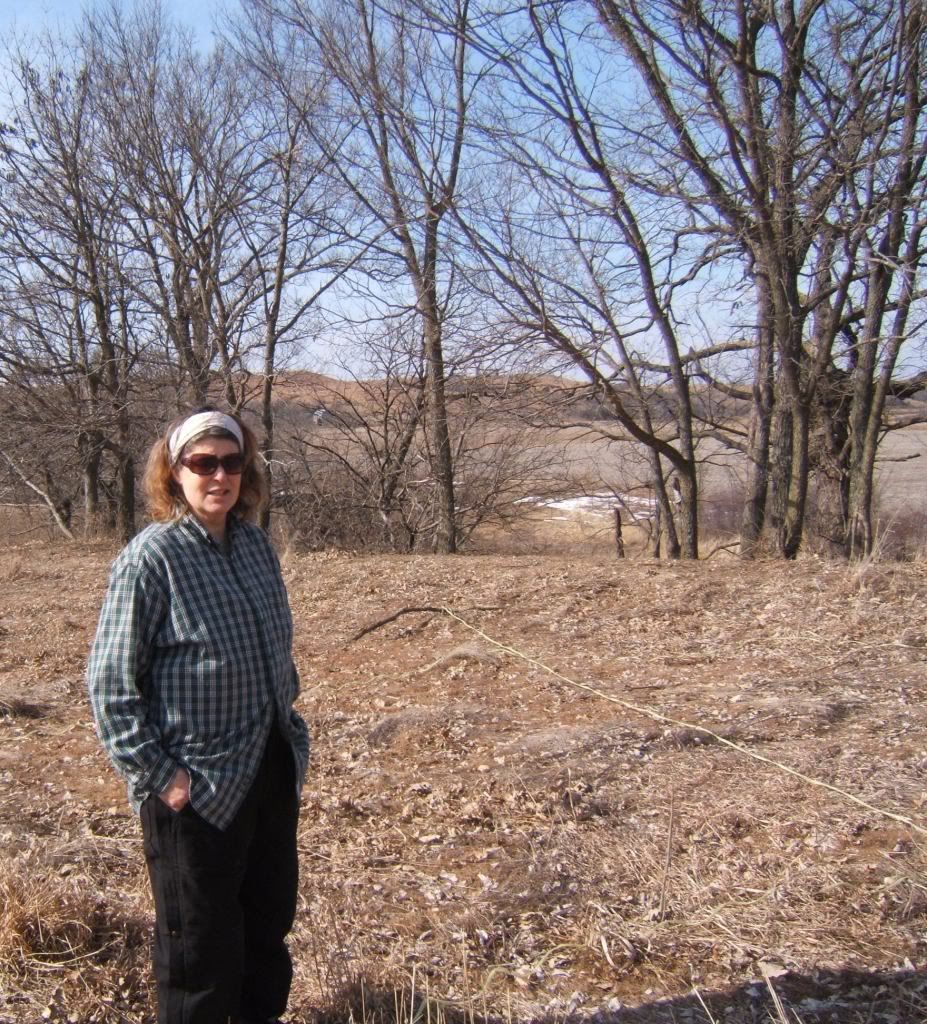 "Installations" are part-sculpture, part-architecture and are sometimes dwelling-sized structures designed to surround the public with experiences rather than simply present them with something to view. Roe has set herself the task of reflecting Garton's many facets--especially her sense of humor and her love of the tall grass prairie, where she requested that her ashes be dispelled. In honor of Garton's philosophy of creating harmony between humans and other species, Roe wants her creation to be inviting, interactive, playful--and biodegradable. Roe is known for works of art that embrace natural processes, including decomposition. Therefore, she will construct the Garton memorial out of indigenous materials, together with native seeds--so as the work disintegrates, a restored prairie will emerge. Her working name for this piece is, appropriately, "Revival."
Designated Kansas's 2009 "Emerging Artist of the Year," Roe is known for many works based on the tall grass prairie, including one on the below ground habitat. She teaches art at Washburn University, where one of her installations is currently on display. Called "Living in the Dead Zone," it is an outdoor installation based on the experiences of Roe's mother, who lived with Alzheimer's disease for many years.
Roe has outlined an area roughly 50'x50' at Bird Runner Wildlife Refuge for "Revival." She hopes to establish a blog to recount her experiences as she brings this installation into being.
(For more about this memorial, click here.)
Betsy Roe begins work on "Revival," a memorial to Jan Garton