LAWRENCE, Kan. - The film adaptation of Thomas Frank's best selling book: What's the Matter with Kansas?
will be screened at Lawrence's Liberty Hall, 644 Massachusetts Avenue, from December 21 through the 30th.
Author Thomas Frank will appear at a screening on Saturday, December 26, 2009 at Liberty Hall. The screening will begin at 7:10 p.m. and Mr. Frank will appear afterwords to talk about the making of the film and to take questions from the audience.
Whereas the book What's the Matter with Kansas?
explored the 2004 national election, the film explores the 2006 Kansas election and whether the religious right will continue to drive working and middle-class voters to the Republican Party, to vote against their own economic interests.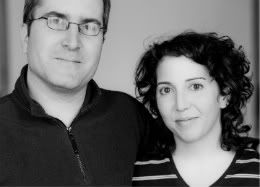 Joe Winston and Laura CoenDirector Joe Winston picks up the story in 2006 and presents the viewer with a broad examination of Kansas and Kansans. Filmed on location across Kansas, the film follows Kansans - each of whom is seen as themselves, allowed to speak in their own voice and seems to have a good heart.
Film critic Roger Ebert said: "I've rarely seen a documentary quite like it. It has a point to make but no ax to grind."
Winston offers no explicit commentary throughout the film. Instead he has chosen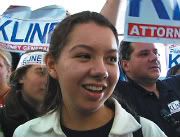 Brittany Barden appears in filmto interview people in depth, something of a rarity in today's media market, and has allowed them to speak at length and explain what their political positions are. His editing of the interviews seems very evenhanded that result at making each viewer angry at some point in the film, regardless of their own positions.
Liberty Hall show times for the movie:
Monday December 21 - Tuesday December 22: 4:40 7:10 9:30
Wednesday December 23: NO SHOWS
Thursday December 24: 2:10 4:40
Friday December 25: THEATER CLOSED
Saturday December 26 - Sunday December 27: 2:10 4:40 7:10 9:30
Monday December 28 - Wednesday December 30: 4:40 7:10 9:30
MUST CLOSE Wednesday December 30

Tickets are $8 for adults, $6 for seniors, and on Wednesdays and Thursdays students pay only $6.
To purchase tickets and get the latest show times, visit libertyhall.net or call Liberty Hall at 785-749-1972. For more information about the movie, visit whatsthematterwithkansas.com.