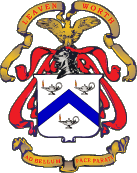 BASEHOR, Kan. - The United States Army's Command and General Staff College (CGSC) at Fort Leavenworth is the premier military command staff training school in the world. In addition to training U.S. officers to assume command staff positons, it invites more than 100 foreign military officers to be part of each year's class. And because those foreign officers and their families are away from their home country for the 11-month program, the Army and People to People International have jointly put together a sponsorship program that helps the foreign families feel at home here in the Leavenworth area. My wife and I have had the privilege of being sponsors in the program for the first time during this past year.
The program consists of three different sponsors for each officer and his family: a military sponsor, a Leavenworth city sponsor, and a Kansas City sponsor. Since my wife and I work in the KC area, we're part of the KC sponsor program that is coordinated by People to People International's Kansas City Chapter.
The purpose of People to People International is to enhance international understanding and friendship through educational, cultural and humanitarian activities involving the exchange of ideas and experiences directly among peoples of different countries and diverse cultures.

People to People International is dedicated to enhancing cross-cultural communication within each community, and across communities and nations. Tolerance and mutual understanding are central themes. While not a partisan or political institution, PTPI supports the basic values and goals of its founder, President Dwight D. Eisenhower.

"I have long believed, as have many before me, that peaceful relations between nations requires understanding and mutual respect between individuals." President Dwight D. Eisenhower.

Among the early leaders working with President Eisenhower were J. C. Hall, the founder of Hallmark Cards, Inc., Walt Disney, Bob Hope and approximately 100 other remarkable individuals from industry, academia, and the arts.
Colonel Wayne Green, Garrison Commander at Fort Leavenworth, keynoted a sponsor recognition ceremony last night, and he told a remarkable story. When he served under General Anthony Zinni, who was in charge of Central Command from 1997 to 2000, there was a move afoot by the Pentagon to cut back the International Officer Program at CGSC. Zinni, a strong supporter of the program and what it could do for international relations, hit the ceiling. He petitioned the Secretary of Defense to maintain the program and it subsequently avoided the cuts that the Pentagon wanted to make. (Taxpayer's note: a neighbor down the road, a retired Army officer who still teaches in the CGSC program as a civilian, told me that a criterion for acceptance into the program is that the officer's home country must pay the full costs associated with the officer's attendance).
Our role in the program was to make our officer and his family feel comfortable and at home. Nothing more than social activities were involved: dinners at our house or theirs, an occasional restaurant meal, showing them around Kansas City, etc. And, in the process, we've all become friends. As Colonel Green said during the ceremony last night, that's the whole point of the program. The world's problems aren't solved by the military, but by people working with each other to create mutual understanding and respect.
This program has had a major impact on our lives, and my wife and I look forward to sponsoring another officer and his family for the new class that starts in January.