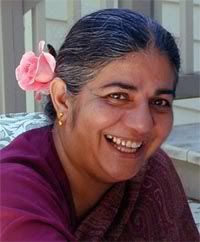 MANHATTAN, Kan. - Dare to imagine a world where people matter more than corporate profits; where economic development is planned and carried out with respect to the natural systems; and agriculture produces food that is consumed locally with a broad biodiversity of choices. Impossible? Dr. Vandana Shiva thinks it is within our reach.
On October 16th Shiva brilliantly lectured on the interconnectedness of humanity's most urgent crises - food security, peak oil and climate change in a public lecture entitled: Soil, Not Oil: Food Security in an Age of Climate Change. Approximately 800 people filled McCain Auditorium at Kansas State University to hear the lecture sponsored by K-State's Women's Studies and Agriculture programs along with numerous other campus and community organizations.
A trained physicist with over 300 technical publications, Shiva is also a philosopher, environmental activist and eco-feminist. Shiva has written more than a dozen books, including Ecofeminism
; Staying Alive: Women, Ecology, and Survival in India
; Biopiracy: The Plunder of Nature and Knowledge
; and Stolen Harvest: The Hijacking of the Global Food Supply
. Her most recent title is: Soil Not Oil
, and is available from South End Press.
Her political actions began in the '70s when she and other (mostly women) members of the nonviolence Chipko movement began to form human circles around trees to prevent them from being cut down. She went on to become a leader in the International Forum on Globalization, often referred to as the alter-globalization movement, where she argued that traditional wisdom has much to teach us about food production and feeding the world's population over the corporate agriculture model.
In 1993 she was awarded the Right Livelihood Award, also known as the Alternative Nobel Prize, for placing women and ecology at the heart of development discourse, as well as the United Nations Environment Program's Global 500 Award. In 2009 she received the Save the World Award.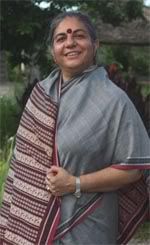 She opened her comments at K-State by saying Kansas was at the heart of what will be the future of our food and farming systems, but more importantly what will be the future of our freedoms. Shiva experiences more freedoms being taken away from people through the corporate food system than any other action today.
"We can be forced into a deeper violence against nature, against farmers, against those who eat, or we could move to a nonviolent and peaceful way of living on the earth, producing our food and living with our bodies too," she said. "Because agriculture has increasingly become like war. And it is not an accident that it has become more like war because the tools of what is called today's industrial agriculture were really the tools developed for warfare."
How did we get to where we are? For Shiva to understand what corporate agriculture is doing to the planet we have to understand that the system - mechanistic reductionism - used to study nature is based on a system of rape and violence. She referred to a quote by
Bacon
that says "nature does not reveal her secrets without rape and violence."
The resulting 500 years of this approach is a system of science that has left the earth teetering on environmental destruction and the claim by corporations that they now own the patrimony of nature's biodiversity as intelligence property.
Fighting against this effort by corporations like Monsanto to limit what seeds farmers have access to, what is often referred to as biopriacy, Shiva has established 54 seed banks - Navdanya - across India that provide the biodiversity needed to survive in the era of global climate change. In addition Navdanya has also trained over 500,000 farmers in seed sovereignty, food sovereignty and sustainable agriculture methods.
The implications for Shiva's ideas have very real applications for Kansas where most food sold for human consumption comes from other states and most fresh produce comes from California, Texas and Florida. Leading efforts to change how agriculture is done in the state are people like Prof. Rhonda Janke of K-State's Sustainable Agriculture Program and Dan Nagengast at the Kansas Rural Center. Both see a real need to move away from the corporate agriculture model to a sustainable approach that breathes new life into many rural communities.
Don Teske, president of the Kansas Farmers Union, recently put it best at the screening of What's the Matter with Kansas? when he described how farmers no longer come together to help each other out in difficult times but rather hope their neighbors fail so the can "get the land." For Dr. Shiva this extractive model of agriculture is doing our state and the planet more damage than good.
Positive alternatives exist to the continued destruction of biodiversity and our basic human rights but they require people become informed and then use their power of the purse to force the changes needed. As long as our money goes to support the destructive system that has been built on destroying the plant and the farmers, nothing will change.
You can listen to/download Dr. Shiva's lecture (62 minutes) at the following link (scroll down past the video links); please note that due to technical difficulties with the file, it cannot be download using a dial-up Internet connection, but can be listen to in a streaming format by clicking the start button on the player panel.
http://communitybridge.blogspot.com/2009/10/soil-not-oil-food-security-in-age-of_7392.html
Of related interest is the film Dirt! The Movie which will be shown as part of the Manhattan Alliance for Peace and Justice monthly film series on Tuesday November 10th at the Manhattan Public Library Auditorium at 6:30 pm. The film feature Dr. Shiva and others working to save biodiversity and the planet's food system.