YOCEMENTO, Kan - The lesser prairie chicken may be threatened with extinction because of choices we are making.
Since European settlement of the Plains States began in the mid-1800's, we've been chipping away at the habitats of the lesser prairie-chicken (LPC). As excessive grassland was plowed for crop production, LPC populations dwindled. Biologists estimate that about 90% of the LPC population was destroyed by the 1980's.
This species needs undisturbed open spaces to perform its famous mating dance. It is relatively intolerant of human structures and activity. Kansas is home to almost half of the world's LPC population. New Mexico, Texas, Colorado, and Oklahoma also host this rare breed of prairie grouse.
For the last 20 years, the LPC has been making a comeback in Kansas. Randy Rodgers, a wildlife biologist with Kansas Wildlife and Parks, credits the comeback to the Conservation Reserve Program (CRP) established in 1985. "Where high-quality CRP grasslands have been established close to significant remaining rangelands, LPC have expanded from their pre-CRP range." They do still remain within the boundaries of their historic range. "At present, there is a population of LPC in far southwestern Ellis County, Kansas as a result of the CRP."
Added threats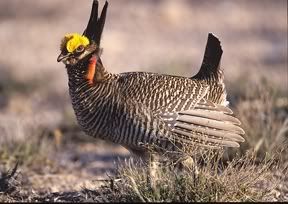 Today, however, the LPC's habitats are again being threatened. Both human activity and human developments appear to cause LPC to avoid otherwise suitable habitat, resulting in less breeding and declining populations. They seem to sense danger in trees and fences, but additional threats are coming from the construction of wind farms, increased oil and gas development, and large power transmission lines. If this human infrastructure cuts through critical LPC nesting habitats, more birds will be lost.
In September, the Kansas Ornithological Society and six Kansas chapters of the Audubon Society petitioned to list the LPC as threatened in Kansas. [Here is an update since this story was originally published.] The US Fish and Wildlife Service is also considering listing LPC as threatened under provisions of the federal Endangered Species Act. The Fish and Wildlife Service recently elevated the status of LPC to just one step away from listing as threatened.
Some of the same threats to the species listed by the Fish and Wildlife Service are on the horizon in Ellis County, Kansas. Phase One of an industrial wind project has been approved for Ellis County. Three phases are in planning stages, potentially threatening the habitat of the LPC. Mr. Rodgers indicated that "already developed areas such as areas of extensive cultivation are best suited for wind turbines, since prairie-chickens do not live there anyway." Three wind power developments already within the historic boundaries of the Kansas LPC range, near Spearville, Montezuma, and Marienthal, were built on cultivated land and not native prairie.
What's wrong with extinction?
What would be the consequences of the LPC's extinction? The LPC is considered a "flagship" species in that it is indicative of the health of an ecosystem. "When you have LPC living in an area, you can be certain that the ecosystem is still healthy and many species will be thriving in that area. Although loss of the LPC from an area would not itself directly cause other species to disappear, it likely would mean other species would diminish because of the decline in ecosystem health."
Should we be concerned about the survival of the LPC? According to Rodgers, that probably depends on your worldview. "Are you coming from a purely human-oriented utilitarian point of view or do you care about the rest of nature?" Roughly speaking, there are two types of answers. One holds that biological diversity is a good in itself. The other only concerns itself with potential usefulness to humans. If you've ever seen LPC in the spring on their mating grounds, you would probably agree that both views would value these birds. From Rodgers' point of view, "it would be a terrible loss."
Will we make sacrifices for the good of other species, including the LPC? Or will the LPC be sacrificed so we can use our electric dryers? The question is one for our society to answer.