MANHATTAN, Kan. - The Women's Study Program at Kansas State University is bringing world-renowned environmental justice advocate, Dr. Vandana Shiva, to speak at KSU on Friday, October 16th, at 7:00 pm in the McCain Auditorium.
A native of India, Dr. Shiva is a trained physicist, ecofeminist, and founding member of Navdanya - "nine seeds" - a participatory research initiative on global environmental justice based in New Delhi.
Shireen Roshanravan, Ph.D., Asst. Professor of Women's Studies at KSU, is hoping that this upcoming event will have lasting benefits for progressive dialogue. Dr. Roshanravan told us...
These are very exciting events at Kansas State University. Many community and campus organizations/departments have pulled together to make them happen.

This event is free and open to the public. Do not miss the opportunity to hear this brilliant and charismatic public speaker!
Navdanya is a network of seed keepers and organic producers spread across 16 states in India. Navdanya has helped set up 54 community seed banks across the country, trained over 500,000 farmers in seed sovereignty, food sovereignty and sustainable agriculture over the past two decades, and helped setup the largest direct marketing, fair trade organic network in the country.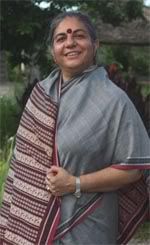 Dr. Shiva explains her interest in founding the seed project and how this ties into her philosophy of ecofeminism:
Over the past three decades I have tried to be the change I want to see. When I found that dominant science and technology served the interests of powerful, I left academics to found the Research Foundation for Science, Technology and Ecology, a participatory, public interest research organisation. When I found global corporations wanted to patent seeds, crops or life forms, I started Navdanya to protect biodiversity, defend farmers' rights and promote organic farming. ...

For me, ecology and feminism have been inseparable. And Diverse Women for Diversity is one expression of combining women's rights and nature's rights, celebrating our cultural diversity and biological diversity.

The defence of nature's rights and people's rights have come together for me in Earth Democracy - the democracy of all life on earth, a living democracy which supports and is supported by living culture and living economies.
In her talk in Manhattan next week, Dr. Shiva will elaborate how poor and marginal communities, who live in biodiversity economies and have made an insignificant contribution to CO2 emissions, are paying the highest price for climate chaos, erratic rainfall, more intense droughts, floods and hurricanes and extreme heat waves and cold waves.
Much of Dr. Shiva's research focuses on how biodiversity and ecological agriculture are necessary to both reduce CO2 emissions as well as provide resilience to climate chaos. She documents how industrial agriculture, with its chemical intensive and fossil fuel intensive inputs is responsible for large contributions of greenhouse gases. It is responsible for 25 percent of the world's carbon dioxide emissions, 60 percent of methane gas emissions and 80 percent of nitrous oxide, all powerful greenhouse gases. Biodiversity, Dr. Shiva insists, offers resilience to recover from climate disasters.
Dr. Shiva is a prolific writer whose trailblazing scholarship has earned her international recognition. In 1993, she was a recipient of the Alternative Nobel Peace Prize-the Right Livelihood Award. As an advocate for environmental justice within a broad framework that includes ending violence against women and poverty across the globe, she has participated in the 1992 Earth Summit in Rio de Janeiro and has gone toe-to-toe with leaders of world governments and transnational corporations, inspiring NGO crowds at numerous World Bank meetings.
Also, this Friday, October 9th, at 4:00 pm in 13 Leasure Hall at KSU, the Women's Studies Program will be screening the documentary film, DIRT! followed by a panel discussion featuring agricultural scientists and environmental justice advocates.
The screening is one of a series of premieres as the documentary is still in its final stages of production at Common Ground Media. Dr. Roshanravan points out,
KSU Women's Studies was lucky enough to receive a free one-time Sundance clip for screening in order to promote Dr. Vandana Shiva's visit the following week. Dr. Shiva, along with Wes Jackson of the Salina Land Institute and Kenyan environmental and political activist, Wangari Maathai, are all featured in the film.
For further information, KFP readers contact Angela Hubler (ahubler@ksu.edu) or Shireen Roshanravan (sroshanr@ksu.edu). Remember, these events are free and open to anyone who wishes to attend.